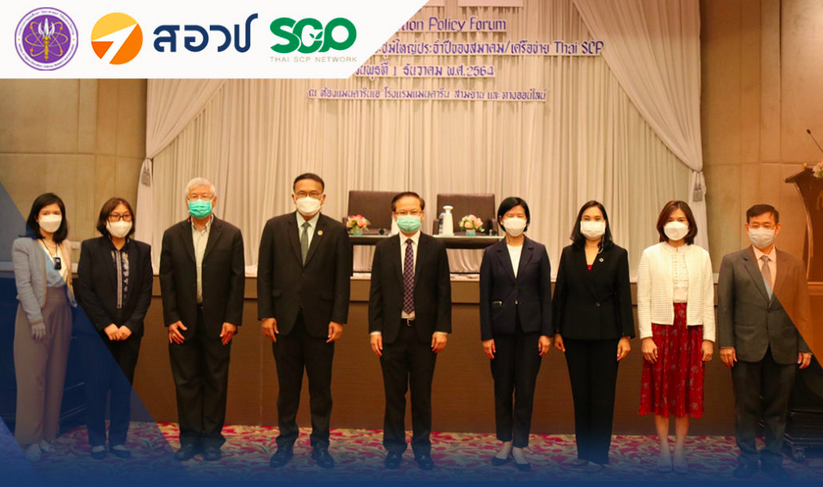 NXPO and the Thai Sustainable Consumption and Production Network (Thai SCP Network) co-hosted CE Innovation Policy Forum and Thai SCP Network Annual Meeting on 1 December 2021. The opening ceremony of the event was presided over by Prof. Dr. Anek Laothamatas, Minister of Higher Education, Science, Research and Innovation (MHESI).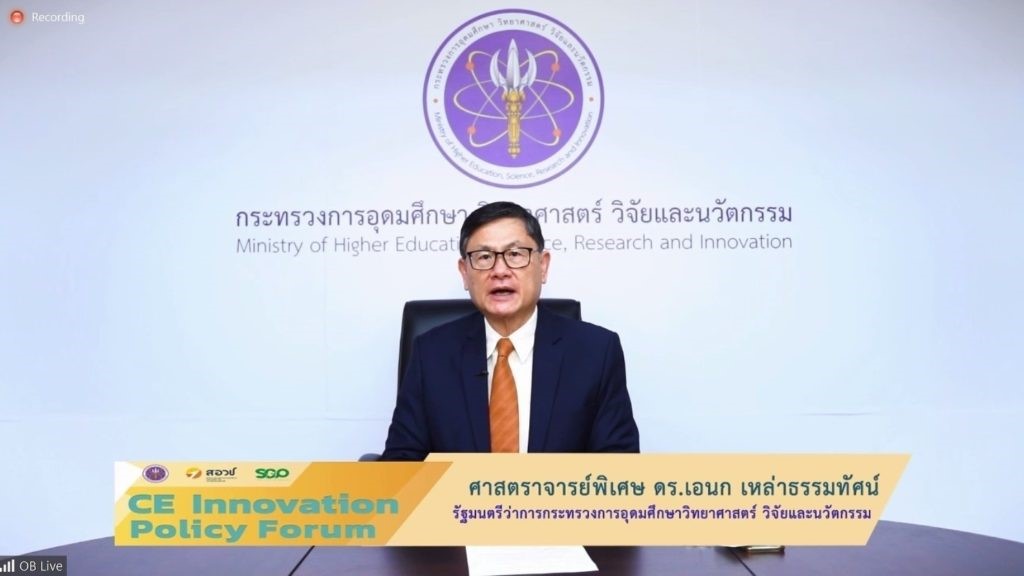 In his opening remarks, Minister Anek highlighted policy key points of the current government. The Bio-Circular-Green Economy (BCG) model proposed by MHESI has been adopted as the main policy of the government and later declared the national agenda. BCG will also be the main topic of the APEC 2022 to be hosted by Thailand next year. In addition, the Prime Minister made an announcement at the 26th UNFCCC COP (COP 26) that Thailand will work towards carbon neutrality by 2050 and net zero greenhouse gas emissions by 2065. MHESI therefore has a challenging task ahead to develop clean technology. There are currently 3,000 investment projects in BCG industries worth THB 700 billion in total and the value of BCG industries is expected to reach 25% of the GDP in five years. Minister Anek further added that BCG will also play a critical role to enable Thailand to become a developed nation by 2037 as targeted by the 20-year National Strategy.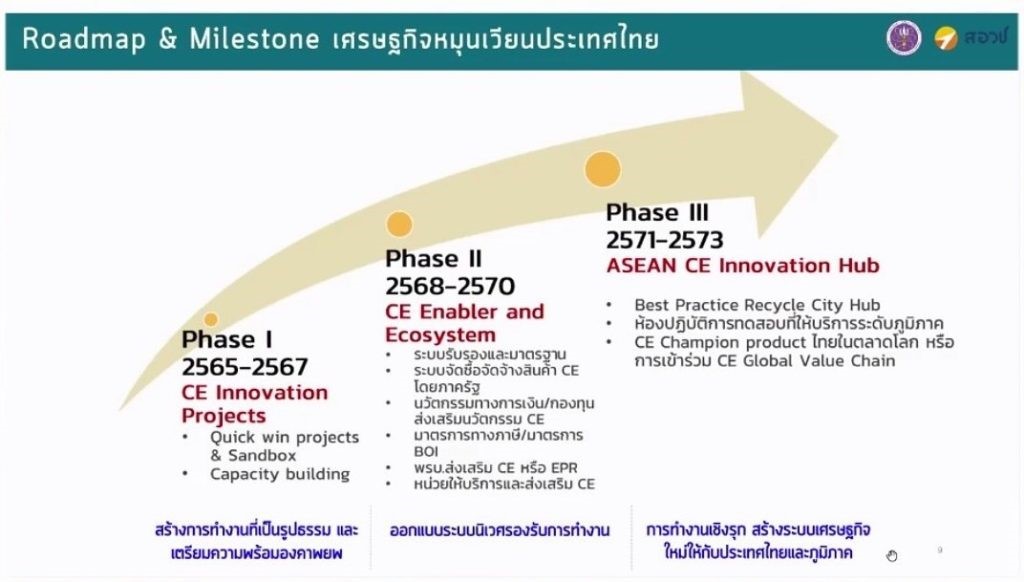 NXPO President Dr. Kitipong Promwong gave a presentation on Circular Economy (CE) Vision 2030. The CE policy aims to reduce resource use by 1/4, cut down greenhouse gas emission by 5 million tons of CO2, and contribute 3% of the GDP with actions such as industrial symbiosis, reverse logistic & recycle, circular food waste, green industry and smart city. Furthermore, new business opportunities will be introduced through programs such as CE Solution Platform, CE Service Provider and CE City. The CE roadmap consists of 3 phases. Phase I (2022-2024) will be "CE Innovation Projects" phase in which various projects will be launched. Phase II (2025-2027) will be dedicated to the design and implementation of "CE Enabler and Ecosystem", whereas Phase III will focus on building "ASEAN CE Innovation Hub".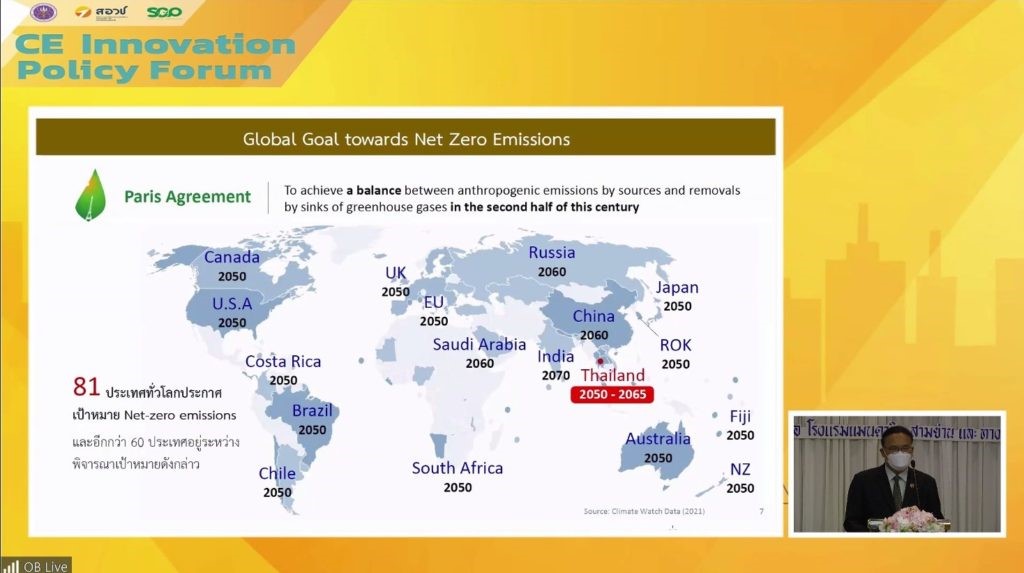 In his presentation, Dr. Wijarn Simachaya, Thai SCP Network President and CE Sub-committee Chairman discussed multiple initiatives launched by the CE Sub-committee operating under the BCG Implementation Committee. The programs include plastic waste management, food loss & food waste and CE in construction industry.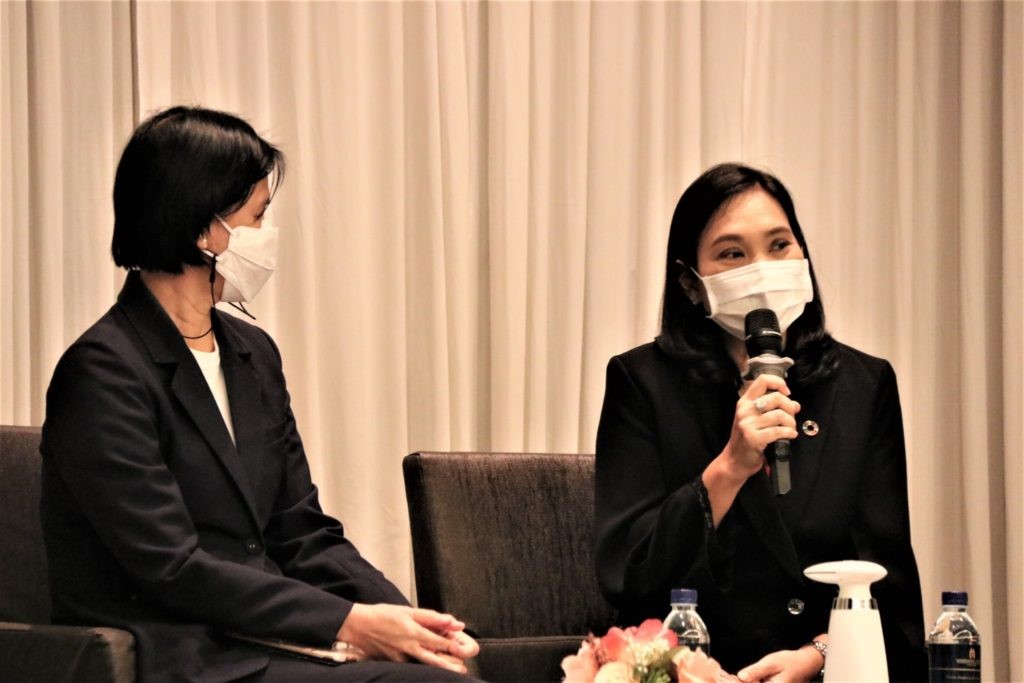 In the concluding session, NXPO Vice President Dr. Kanchana Wanichkorn and Thai SCP Network Secretary-General Dr. Pongvipa Lohsomboon gave an outlook of the partnership between NXPO and Thai SCP Network in driving CE transformation in Thailand. The two organizations are committed to on-going projects such as waste symbiosis development, capacity building through circular design platform and an establishment of CE Hubs. CE Innovation Policy Digital Platform are being designed to facilitate knowledge exchange. The web-based application – www.CEInnovationPolicy.org – will be launched in early 2022.