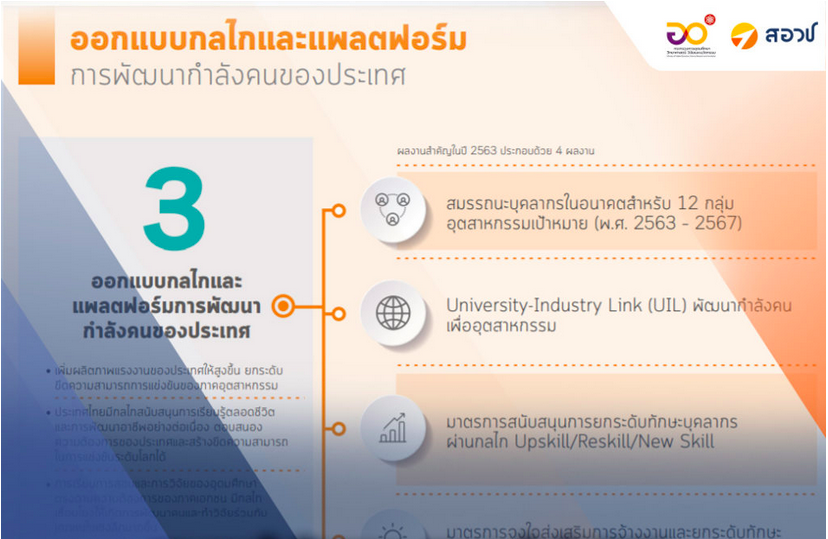 In 2020, NXPO's work focused on driving the higher education, science, research and innovation (HESRI) policy and HESRI system reform that would enable the exploitation of HESRI in all sectors for long-term national development as well as short-term recovery from the pandemic. The work in 2020 can be categorized in 6 areas and this article focuses on NXPO's role in promoting manpower development.
NXPO develops mechanisms and platforms for manpower development aiming at improving quality and quantity of workforce to enhance the country's competitiveness through lifelong learning and university-industry program. Highlights of this mission in 2020 include:
Skill Workforce Demand in 12 Target Industries (2020-2024). NXPO conducted a survey on critical functional competency of workforce required in the strategic industries the next five years (2020-2024). The results were published and distributed to relevant organizations for the formulation of manpower development strategy and planning and the design of education programs to produce future workforce meeting the requirements of industries. The study was performed on 12 target industries: 1) biofuels & biochemicals, 2) aviation & logistics, 3) digital industry, 4) wellness & medical devices, 5) robotics, 6) modern transport, 7) smart hlectronics, 8) high-quality and wellness tourism, 9) agriculture & biotechnology, 10) food processing, 11) defense industry and 12) education & training.  The study report is available in Thai language at: https://www.nxpo.or.th/s-curve-2020.
University-Industry Link (UIL). NXPO proposed a mechanism to promote collaboration between university and industry to produce quality workforce. Two projects have been implemented:
Work-Integrated Learning & Triple Helix Platform. This is an expansion and integration of several programs previously initiated by NXPO and other agencies such as WiL (work-integrated learning), RDI and Sci-FI (Science for industry). In 2020, NXPO, the National Science and Technology Development Agency (NSTDA) and a network of universities launched a partnership to develop master's and doctoral programs in industrial innovation. The initiative has been participated by 9 universities and 18 enterprises in five industrial sectors: automotive parts, refrigeration, food and beverage, electronics, and chemicals and a number of master's and doctoral programs have been introduced.
Talent Mobility. NXPO and the Program Management Unit for Human Resources & Institutional Development, Research and Innovation (PMU-B) proposed a talent mobility project to facilitate the mobilization of R&D personnel from academic and public research institutions to work full- or part-time in private companies and communities. The project was approved for funding and implementation by PMU-B in FY2021.
Upskilling/Reskilling/New Skill Programs. NXPO in collaboration with Office of the Permanent Secretary of MHESI formulated measures to promote upskilling, reskilling and new skill programs for workforce development. The objective is to equip those affected by COVID-19 and university students soon to graduate with skills required by industries. The measure also aims to promote lifelong learning via non-degree programs. Around 30 non-degree programs have been launched in 18 universities.
STEM Workforce. NXPO in collaboration with relevant government agencies developed incentive measures offering to enterprises engaging in human resource development and building up STEM workforce. Criteria and procedures for tax exemption provided for training expenses and expenses spent on hiring employees with advanced STEM knowledge have been established and announced in the Royal Thai Government Gazette. NXPO has designed a mechanism and procedure as well as set up an online system for certifying the employment and STEM training courses.