NXPO Vice President Dr. Kanchana Wanichkorn gave a talk at the 1st Mekong – Japan SDGs Forum via video conference on 20 December 2021. Organized by the governments of Thailand and Japan, the Forum was co-chaired by H.E. Ms. Arunrung Phothong Humphreys, Ambassador attached to Thailand's Ministry of Foreign Affairs and Thai SOM Leader for Mekong Cooperation, and H.E. Mr. Kano Takehiro, Assistant Minister and Director-General of Department of Southeast and Southwest Asian Affairs, Ministry of Foreign Affairs of Japan.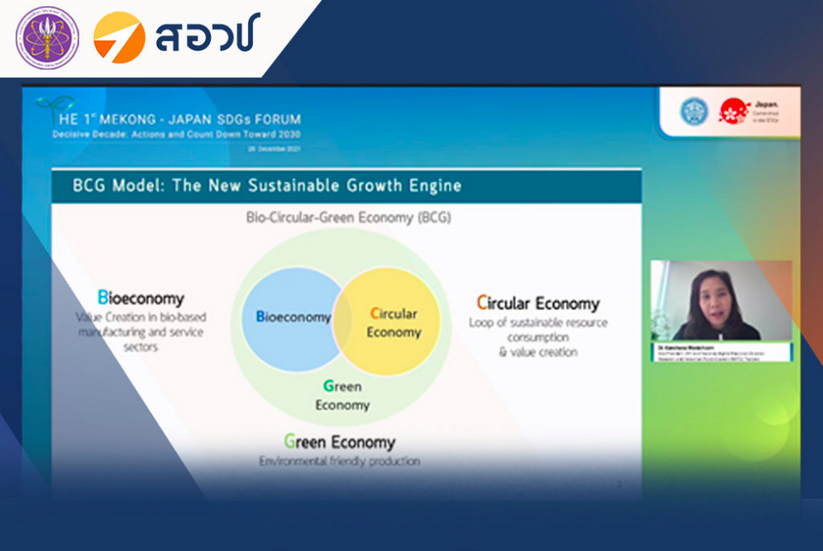 The Mekong – Japan SDGs Forum is part of the Mekong – Japan Initiative for SDGs toward 2030, focusing on three issues faced by the region, namely heath, sustainable economic recovery and inclusive and green Society.
In her presentation, Dr. Kanchana discussed how the Thai government employs the Bio-Circular-Green Economy (BCG) policy to drive sustainability agenda in Thailand by way of creating a balance between economic growth and inclusive society. BCG concept has been applied to develop local and regional economy, as well as to build international collaboration. Examples of projects include Circular Economy Design and Solution Platform aiming to support the application of circular design in industry, especially SMEs, to create additional value to goods and services, BCG Innopolis at the Eastern Economic Corridor of Innovation (EECi) aiming to drive green energy transformation in the community, RE100 Thailand aiming to support the carbon neutrality and net zero emission goals, Japan Partnership for Circular Economy (J4CE) and ASEAN SDGs Frontrunner Cities Programme (SDGs-FC).
Other speakers at the Forum include experts from Asian Institute of Technology (AIT), the Ministry of Environment of Cambodia, Institute for Global Environmental Strategies of Japan and the United Nations Environment Programme (UNEP).