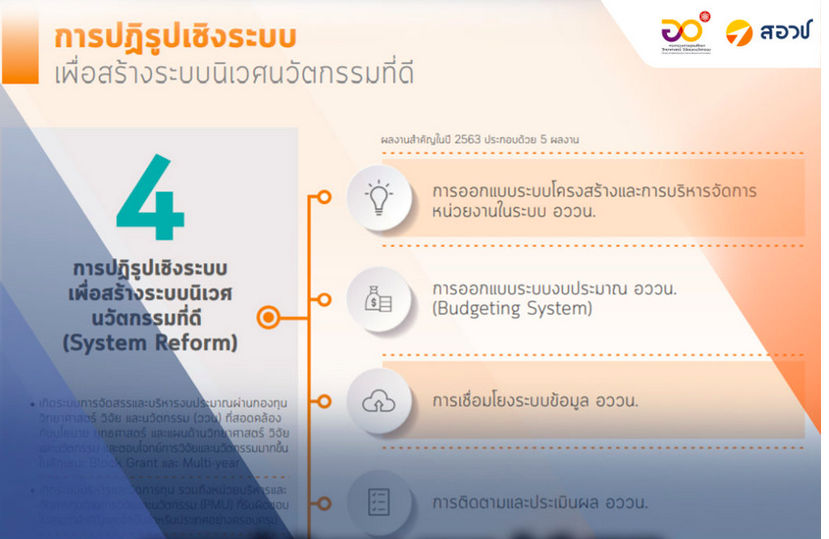 In 2020, NXPO's work focused on driving the higher education, science, research and innovation (HESRI) policy and HESRI system reform that would enable the exploitation of HESRI in all sectors for long-term national development as well as short-term recovery from the pandemic. The work in 2020 can be categorized in 6 areas and this article focuses on system reform.
The work on system reform aims to create a healthy innovation ecosystem with an effective system for budgeting management and allocation, research fund management, and evaluation and monitoring system. Highlights of this mission in 2020 include:
Restructuring of HESRI Organization System. As a secretariat of the National Higher Education, Science, Research and Innovation Policy Council (Policy Council), NXPO is the main driver of HESRI system reform in order to create synergy and improve performance and effectiveness of organizations in the HESRI system. In 2020, three new research granting units were established, namely (1) Program Management Unit for Area-based Development (PMU-A), (2) Program Management Unit for Human Resources & Institutional Development, Research and Innovation (PMU-B) and (3) Program Management Unit for National Competitiveness Enhancement (PMU-C).
Budgeting System. In 2020, science, research and innovation budget allocation was designed in accordance with the HESRI strategy and performance-based budgeting system. This milestone was achieved through close collaboration among NXPO, the Office of the Permanent Secretary of MHESI and the Budget Bureau. NXPO in collaboration with the Office of the Permanent Secretary of MHESI proposed an establishment of a higher education aiming to support universities to enhance academic excellence and produce skilled workforce. The proposal was approved on 9 July 2020 and the draft higher education fund act is under review.
Data Integration. NXPO data integration aims to establish a reliable and safe data warehouse to support effective management of research funding programs. NXPO in collaboration with the National Research Council of Thailand (NRCT) and Thailand Science Research and Innovation (TSRI) established the National Research and Innovation Information System (NRIIS) as a platform for all public research funding organizations to manage research and innovation projects from proposal submission to budget management and monitoring and evaluation, as well as reports and outputs.
Monitoring and Evaluation. In its capacity as the Policy Council secretariat, NXPO designed a system to support the monitoring and evaluation of HESRI activities according to the following requirements:
The system must support the work in three levels: 1) strategic policy – monitor impact of HESRI investment on the economy, society and sustainability by NXPO, 2) policy deployment – monitor objectives & key results (OKRs) of HESRI strategic plan by TSRI, MHESI and NXPO, and 3) implementation – monitor projects and programs by the funding agencies.
The system must connect and cascade the outputs and outcomes between each level, consisting of four components, 1) projects and programs, 2) OKRs of each HESRI strategy, 3) socio-economic impacts, and 4) national profile index.
Regulatory Framework. In 2020, NXPO successfully introduced two regulations to support the innovation ecosystem: 1) Regulations on Science, Research and Innovation Fund to enable multi-year and block grant and performance-based budgeting and 2) Regulations on an establishment of ad-hoc committees that allow the Policy Council to set up ad-hoc committee to perform specific tasks on behalf of the Policy Council to expedite the implementation of system reform.