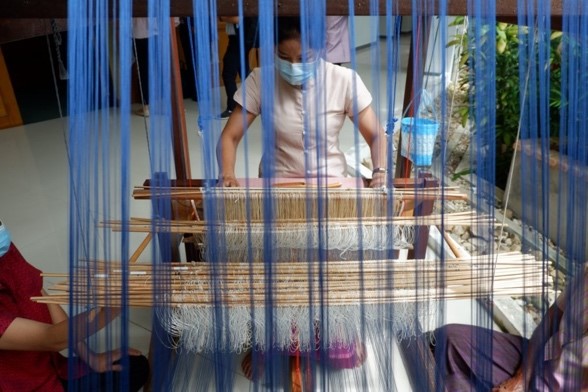 Prof. Dr. Anek Laothamatas, Minister of Higher Education, Science, Research and Innovation (MHESI) and MHESI executives visited southern Thailand to monitor the progress made on area-based development projects. Supported by the Program Management Unit for Area-based Development (PMU-A) – a research funding unit operating under NXPO's framework, the National Research Council of Thailand (NRCT) and Thailand Science Research and Innovation (TSRI), an area-based development program capitalizes on the strength of local universities to utilize innovation and local resources /culture/wisdom to develop local economy.
Under this program, Rajamangala University of Technology Srivijaya Trang Campus helps develop capacity of business owners and community enterprises along the Palian River Basin in Trang province to market their products on a popular online marketplace JUNGHUU.COM. Another project in Nakhon Si Thammarat province utilizes universities as a marketplace for local textiles by incorporating locally produced fabric in the design of graduation gowns. This innovative idea serves as a model for universities across the country to exploit items unique and culturally-important to the community in their products and activities in order to boost the local economy.
While in Nakhon Si Thammarat, Minister Anek and team also visited a crab bank in Tha Sala district and a number of culturally important sites in Thung Song district. The crab bank is a sustainable crab conservation project set-up in fishing villages. This crab bank is now promoted as one of Tha Sala's tourist attractions, whereas several sites in Thung Song's old town have potential to be developed into tourist attractions to revive tourism industry in the community and stimulate the local economy.
Minister Anek said that as COVID-19 brings the economy to a halt, it is clear from this visit that grassroots economy has strong potential to reboot the economy. These area-based development projects have already contributed more than 10 million THB to the economy of these two provinces. The area-based development program is launching more projects to be implemented by 16 universities in 29 cities, expecting to add 700 million THB value to the local economy.