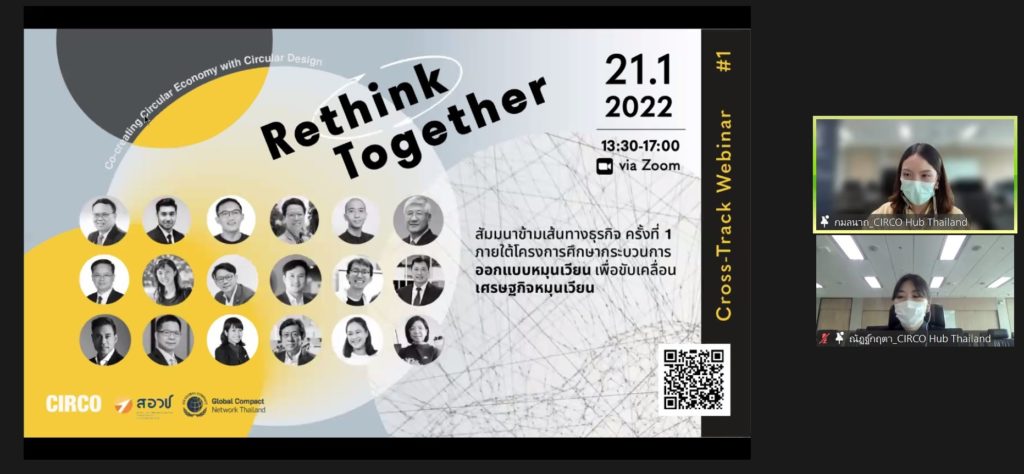 CIRCO Hub Thailand – a joint project between NXPO and the Global Compact Network Thailand (GCNT) – organized an online seminar titled "Rethink Together: Co-Creating Circular Economy with Circular Design" on 21 January 2022. The seminar served as a platform for information sharing on the circular economy (CE) among the public and private sectors and the civil society.
In his opening remarks, NXPO President Dr. Kitipong Promwong painted a big picture of CE in Thailand. Considerable progress has been made with regard to CE in Thailand with contributions from both the public and private sectors. The movement has gained momentum when the Thai Government announced at its goal to achieve net zero emissions by 2065 at the 2021 United Nations Climate Change Conference (COP26) last November. In order for Thailand to attain this goal, cooperation among concerned organizations is necessary through existing and new mechanisms, including the implementation of circular concept. The government also encourages public organizations to employ a closed loop approach in their operation.
Circular design is an important tool to support the collaboration among businesses, whereas Extended Producer Responsibility (EPR) is an effective policy that can be applied to manufacturers to encourage CE. In addition, measures and incentives must be introduced to expand CE market. "NXPO, in collaboration with the Thai Sustainable Consumption and Production Network (Thai SCP Network), has initiated a CE policy forum which facilitates information sharing and eventually lead to the publication of CE Innovation Ecosystem 2030 white paper," Dr. Kitipong stated.
Dr. Kitipong further added that this seminar brought together agencies and organizations to work collaboratively on circular design with CIRCO Hub Thailand acting as a platform to help Thai businesses understand and apply circular design in their respective businesses.
According to GCNT Director Thanyaporn Krichtitayawuth, sustainability is no longer a trend, but a strategy for businesses to survive and thrive as the world is embracing the new normal. CIRCO Hub Thailand project aims to help Thai entrepreneurs make this transformation with the power of creativity. Circular design has potential to create economic value and new business opportunities to enterprises. The CIRCO circular design course – taught by CIRCO, an agency in the Netherlands – has enabled over 1,000 companies in the Netherlands and 11 other countries to transform into circular businesses.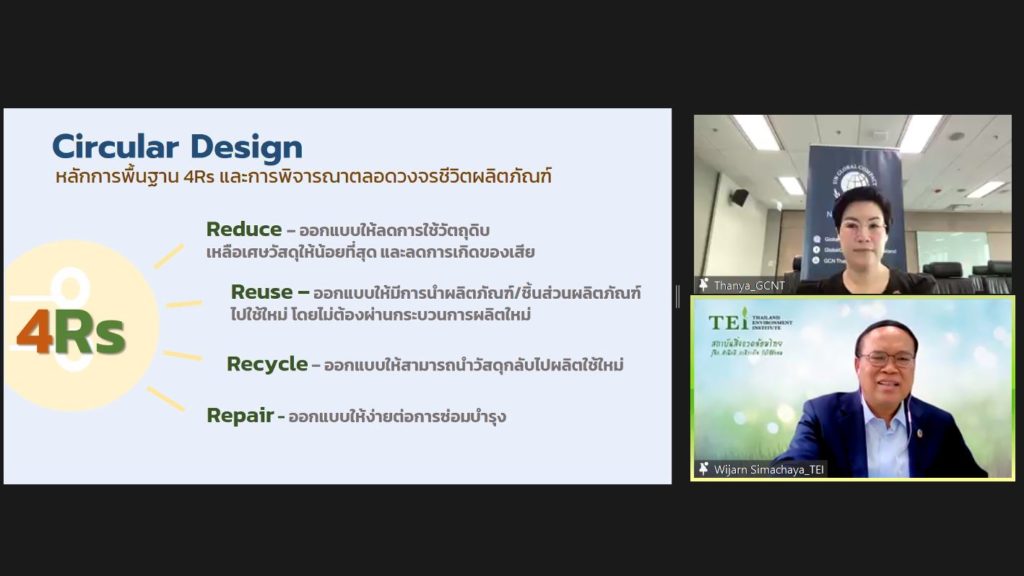 Dr. Wijarn Simachaya, President of Thailand Environment Institute and Chairman of BCG-Circular Economy Sub Committee, shared information on Thailand's CE policy. The CE strategy consists of key projects and focused sectors, expansion from one sector to another, the development of CE Solution Platforms, capacity building of technology and innovation, review and revision of regulatory framework, manpower development, paradigm shift to responsible production and consumption, demand creation for green products and services and cooperation among stakeholders – from SMEs to large enterprises and from regional, to national and international levels.
Representatives of companies participating in the CIRCO circular design course also shared their experiences in implementing circular design – rethink, reuse, reduce, renew and recycle – in their businesses. They all agreed that in addition to responding to the circular economy, circular design also brings a positive image to the companies and attracts consumers' attentions. The course helps create business networks to support future collaboration to drive CE.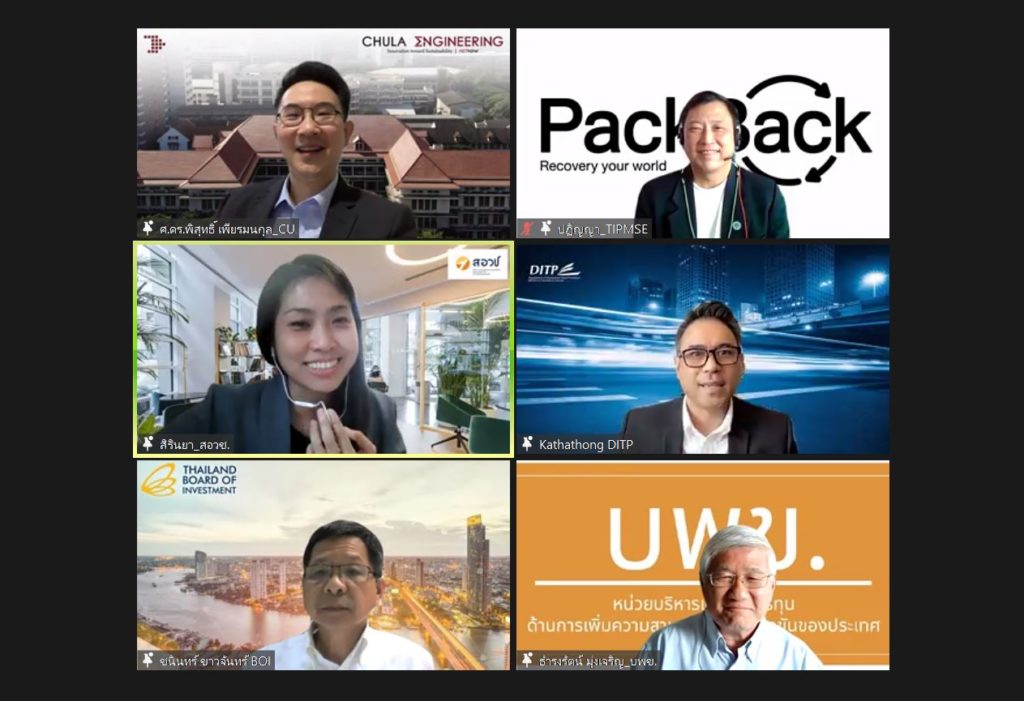 A panel session on government actions on CE was joined by representatives from government agencies. Apart from launching the CIRCO circular design course, NXPO is employing the systems research to design a vibrant CE ecosystem, incentive measures to promote CE investment, a funding facility for CE research. The office is planning to establish an online knowledge-sharing platform on CE and Circular Economy Hub to provide consultancy service on CE. While the Department of International Trade Promotion, Ministry of Commerce, has been assisting Thai companies introduce their CE products to international markets, Thailand Institute of Packaging and Recycling Management for Sustainable Environment (TIPMSE) has launched an EPR campaign called PackBack. The Program Management Unit for National Competitiveness Enhancement (PMU-C) has a funding program dedicated to CE research, whereas the Board of Investment (BOI) offers investment incentives and 3-8 years of tax break to businesses implementing the circular concept and minimizing their environmental impact.
"Rethink Together: Co-creating Circular Economy with Circular Design" seminar acted as the key to access knowledge and opportunities in CE in Thailand. The seminar also presented viewpoints and experience of Thai businesses in implementing circular design and helped inspire entrepreneurs to take part in the CE transformation which is in line with the Bio-Circular-Green Economy (BCG) national agenda.