Future Talk by NXPO was recently held on a virtual platform focusing on Thailand's climate action. The forum featured Dr. Phirun Saiyasitpanich, Secretary General of the Office of Natural Resources and Environmental Policy and Planning (ONEP) and Dr. Butra Boonliang, Head of Technology Strategy and Portfolio Management of SCG Chemicals.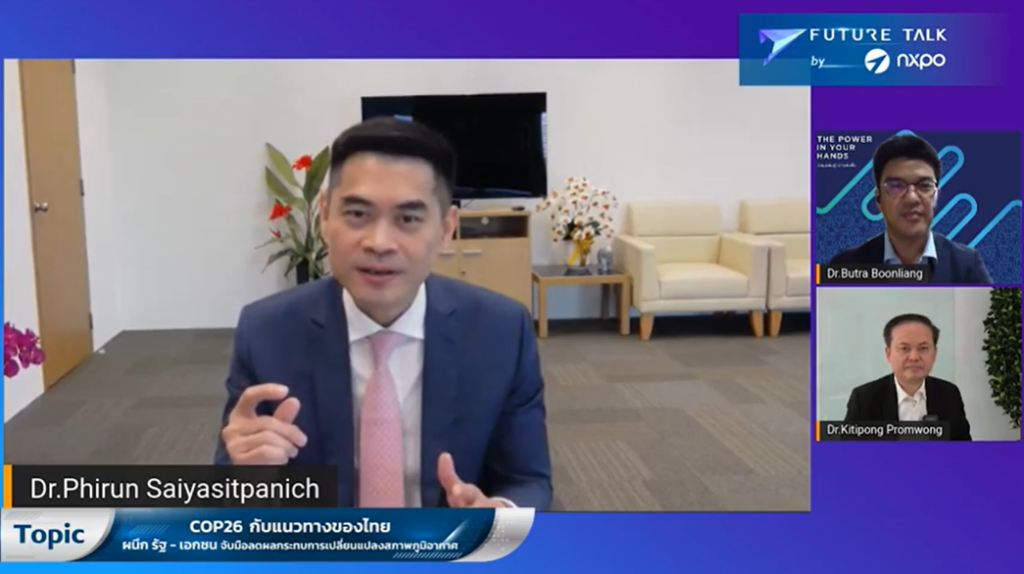 As ONEP is Thailand's national coordinator of the United Nations Framework Convention on Climate Change (UNFCCC), Dr. Phirun provided an update on the 2021 United Nations Climate Change Conference (COP26) held in November 2021. The agenda of COP26 was centered around 1) how to secure global net zero emission to keep the temperature rise to below 2 °C and limit the increase to 1.5 °C, 2) climate adaptation, and 3) financial and technology facilities to support climate action for developing countries. The conference concluded with the Glasgow Climate Pact that reflects decisions on multiple issues including stronger Nationally Determined Contributions (NDCs), long-term climate financial instrument and adaptation communication. To enhance transparency, a framework was adopted for nations to submit their first biennial transparency reports in 2024.
Following the announcement made at COP26 that the country aims to achieve carbon neutrality by 2050 and net zero emissions by 2065, Thailand is reviewing its NDC – possibly ramping up emission reduction from 20-25% to 40% to keep temperature rise around 1.6-1.7 °C. To meet this new challenging goal, ONEP is working closely with stakeholders to revise the strategic plan.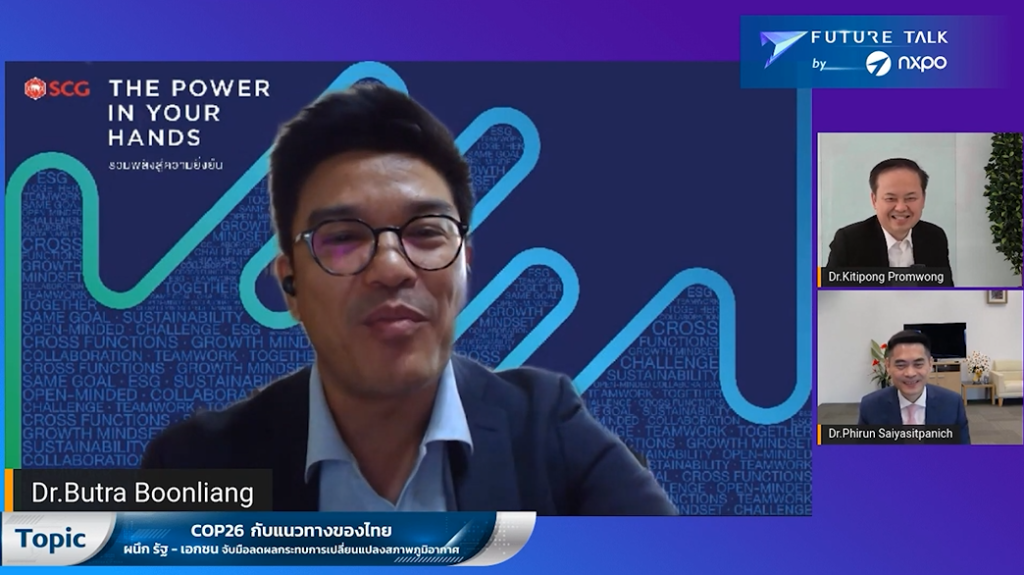 Industry perspective on climate action was provided by Dr. Butra Boonliang. The World Business Council for Sustainable Development (WBCSD) launched the Business Manifesto for Climate Recovery at COP26. The manifesto outlines twelve action priorities to drive global climate recovery and enable companies to future proof their businesses. Factors for businesses to consider are carbon cost, carbon credit and green investment. Carbon intensive industries will be perceived as high-risk investment, and from now to 2030 investment will flow from carbon intensive industries to low-carbon ones.
In term of industrial adaptation, Dr. Butra listed technologies that offer solutions to Thai industries such as Carbon Capture, Utilization and Storage (CCUS) and green hydrogen. Open innovation is an enabling platform to bring together industry and research and academic institutions to create and deliver green technologies suitable for Thailand.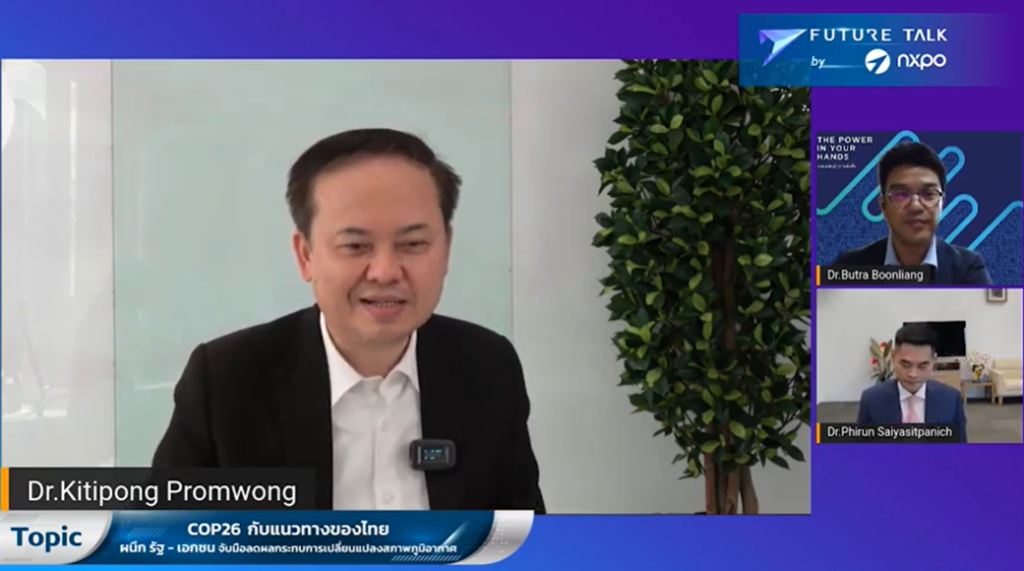 NXPO President Dr. Kitipong Promwong shared some activities that NXPO has initiated to support climate action. The office participated in COP26 as the negotiator on issues related to technology development and transfer and the national designated entity (NDE) of the Climate Technology Centre and Network (CTCN). Through these channels, NXPO attempts to coordinate and facilitate technical collaboration between Thai scientists and international partners, as well as help secure funding for creating and scaling technologies that will bring Thailand closer to its climate goal.