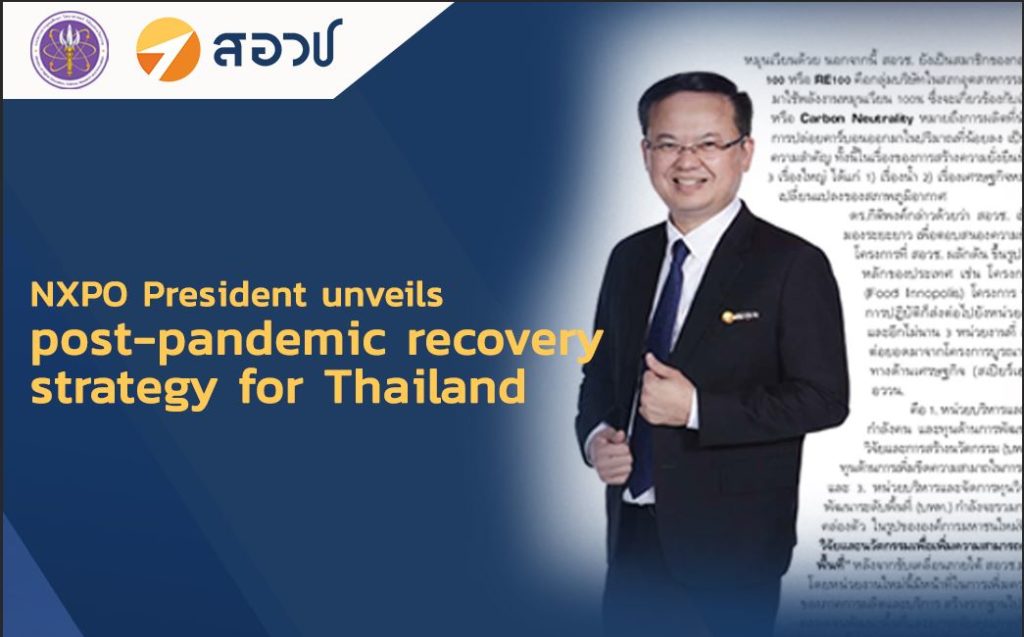 As the pandemic has caused significant damages to the global economy over the past years, every country is now preparing for the recovery. Thailand reopened its border to international visitors on 1 November and school started to provide an on-site education on 15 November. Technology and innovation will become critical to the post-pandemic recovery. On this matter, NXPO President Dr. Kitipong Promwong offered the following strategies to guide Thailand through the speedy recovery.
Build an innovation-driven economy
One of the urgent issues, according to Dr. Kitipong, is to stimulate the investment, and the contribution that can be made from higher education and science sector is the development of innovation and talent. NXPO recently formed a collaboration with the Office of MHESI Permanent Secretary, the Council of Science Dean of Thailand, the Council of Engineering Deans of Thailand and the Board of Investment (BOI), setting a goal to produce 20,000 highly skilled STEM workers annually to supply to industry. In addition, the higher education sandbox initiated by NXPO will support the development of novel education programs aimed at producing graduates with skill and competency meeting the requirement of industry.
Furthermore, the Thai Bayh-Dole Act that has been approved on 17 September is expected to stimulate an innovation-based economy. The act grants an ownership of invention made with government funding to an inventing institute, thus giving research institutes the power and flexibility to manage their IPs in the way that would best encourage the commercialization of technology. The benefit sharing to inventors, will incentivize researchers to create innovation and participate in the commercialization process. More tech startups will be created to drive an innovation-driven economy.
Develop "Civilization Industry"
Tourism is one of the most important sectors driving the Thai economy, contributing 21% of its GDP. The number of inbound tourists is expected to surge after the pandemic. Higher education, science, research and innovation can play a critical role to get the country prepared to revitalize the tourism industry and to promote the development of a creative economy by capitalizing on beautiful nature, delicious food, rich cultural heritage, excellent medical services and high-speed internet infrastructure.
Dr. Kitipong gave an example of applying technology and innovation to support tourism industry. Artificial intelligence (AI) and virtual reality (VR) can be employed to improve tourist's experience in visiting ruins in ancient cities such as Sukhothai. This kind of project can be achieved with the cooperation among the Ministry of Culture, academia and industry.
Although Thailand ranks fifth in the World's Best Countries for Cultural Heritage Influence according to the CEOWORLD magazine 2021 report, Dr. Kitipong explained that our cultural influence is limited to neighboring countries and China. NXPO, therefore, proposes the development of "Civilization Industry" to boost the country's economy by applying higher education, science, research and innovation to generate economic value out of cultural heritage. Under this initiative, NXPO is set to work with 38 Rajabhat universities across the country and Thailand Academy of Social Sciences, Humanities and Arts (TASSHA) to establish archaeology courses and link the knowledge to the tourism and entertainment industry.
Create innovation economic corridor
The opening of the China-Laos Railway this December will open up enormous trade and tourism opportunity for Thailand with CLMV countries as well as China. The new railway will enable Thai goods to reach 50 Chinese cities within 24 hours. NXPO has commissioned Chiang Mai University to develop food and fruit production clusters supported by a cold chain logistics system to bring Thai farm products to neighboring countries. Products of focus are plant-based protein and premium fruits such as durian, mangosteen and longan.
In addition, several programs have been initiated to support innovation economic corridor such as innovation schools in regional science parks, innovation awards and TED fund. The National Innovation Agency (NIA) and university business incubators also run programs to develop entrepreneurs. To help enterprises penetrate international markets, NXPO and Exim Bank is planning a business incubation program to help Thai SMEs prepared to sell products on global e-commerce platforms such as Alibaba.
NXPO has also introduced a project to help develop local entrepreneurs. The project has been launched in Pattani province, assisting a chili paste manufacturing SME. By improving product packaging and acquiring food safety certification, the company's annual sales increased from a few million to over 100 million THB.
4 components to rebuild the economy
Dr. Kitipong identified 4 important components to rebuild the economy, namely bio-based economy, circular economy, local economy and beneficial microorganism in medical application. Significant progress has been made on the development of circular economy. NXPO has initiated a Circular Economy Policy Forum that brings together players in the society and industry to share viewpoint and drive circular economy transformation with the policy design. A circular design course has been launched, providing training on circular design by international experts to Thai companies. NXPO recently joined the RE100, a global initiative bringing together companies committed to 100% renewable electricity.
NXPO's role has always been supporting long-term policy development for Thailand. The office has initiated a number of projects that have successfully spun off such as Food Innopolis and Bio-Circular-Green Economy (BCG) model. Soon, a new organization will be created to take over the operation of three Program Management Units which were initiated and operated under the auspices of NXPO as public research funding programs.