NXPO President Dr. Kitipong Promwong recently gave a talk sharing recent development and information on the Thai Bayh-Dole Act and innovation sandbox at an online seminar organized by the Department of Science Service.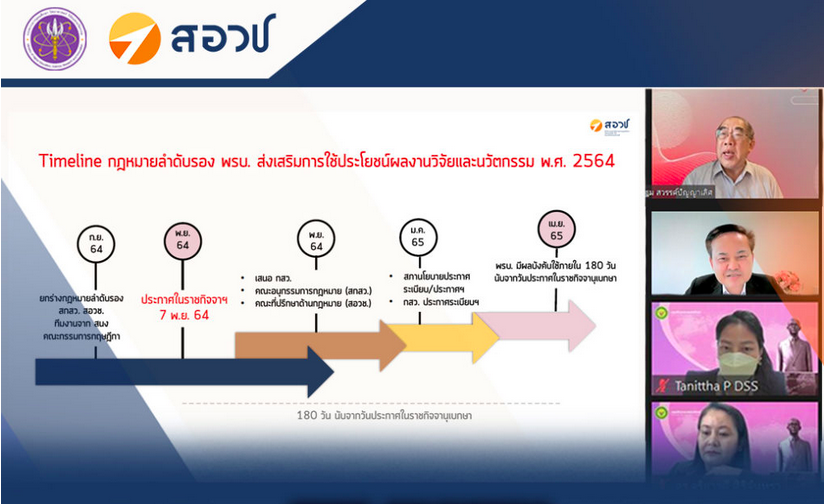 Dr. Kitipong highlighted the importance of Thai Bayh Dole Act that it has unlocked the commercialization potential of research and innovation. The act grants an ownership of invention made with government funding to an inventing institute, instead of assigning the ownership to the funding agency. With the ownership of inventions, research institutes have the power and flexibility to manage their IPs in the way that would best encourage the commercialization of technology. The act also enables the benefit sharing to inventors, thus incentivizing researchers to create market-driven innovation and participate in the commercialization process.
To obtain the ownership of an invention developed from the public fund, Dr. Kitipong explained that the research institute must disclose the details of the said invention based on the received grant, express its intention to acquire the invention ownership and submit a plan to commercialize or utilize the invention to the funding agency. The research institute has two years to utilize/commercialize the invention after it is assigned the ownership of the invention and reports the progress to the funding agency. If the invention has not been utilized within the 2-year period, the research institute can petition for an extension prior to the deadline with proofs demonstrating its attempt to make use of the invention.
In addition, Dr. Kitipong also provided information on innovation sandbox initiative. Article 14 of the National Higher Education, Science, Research and Innovation Policy Council (Policy Council) Act allows an establishment of innovation sandboxes to enable cutting-edge technologies as well as a highly skilled workforce to be fully developed under incentive measures and without being required to abide by full regulatory requirements.
Any public or private enterprise can file an application to establish an innovation sandbox to the Policy Council, provided that the said innovation involves novel technologies that are not yet regulated or whose full development are obstructed by current laws and regulations. The Policy Council will appoint a special committee to review the application, develop guidelines and measures for the sandbox operation, and monitor the progress of the established sandbox. Innovation sandboxes for medical devices concerning certain standards and for agricultural and food products concerning GMOs are being developed.