Future Talk by NXPO recently featured a university startup – Baiya Phytopharm – in the race of COVID-19 vaccine development. Guest speakers were two co-founders: CEO Dr. Suthira Taychakhoonavudh and CTO Dr. Waranyoo Phoolcharoen. Both are pharmaceutical sciences faculty members at Chulalongkorn University.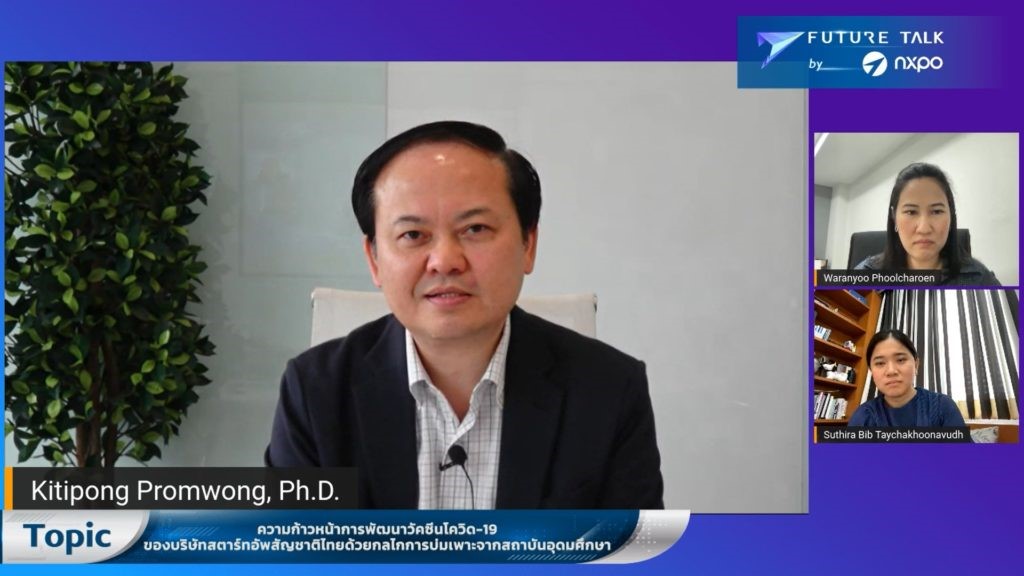 Baiya Phytopharm is a plant-based pharmaceutical company utilizing BaiyaPharming™ protein expression platform to produce recombinant molecular proteins from tobacco leaves. In the case of COVID-19 vaccine development, low-nicotine tobacco plant was engineered to produce SARS-CoV-2 viral protein. The plant-produced protein is delivered into the body to allow the body creating a specific immune system against the COVID-19 virus. The vaccine candidate, Baiya SARS-CoV-2 Vax 1, is successfully tested in animal studies (mice and monkeys) and phase I human trial will start later this month. The company also finished setting up the first plant-based vaccine and biologics manufacturing facility in Asia and is working on the second-generation COVID-19 vaccine with improved immunogenicity. The co-founders expected that the vaccines will be ready for use in the third quarter of 2022.
Dr. Suthira revealed the challenges of running a vaccine production company that it requires multi-disciplinary knowledge including pharmacy, industrial-scale production, quality assurance, animal testing and vaccine registration. However, the blessing of having a company is to serve as a learning site for their students. Students can work in the company lab and even pitch a project to the company. In addition to practicing their scientific techniques, students also get inspired to be more entrepreneurial, which can lead to many more tech startups for Thailand.
As for the future outlook, the co-founders have a number of drug and vaccine projects in minds. The experience and expertise gained from COVID-19 vaccine development will help expedite their future projects. They would like to see the company thrives in order to improve heath security for the Thai people.
NXPO President Dr. Kitipong Promwong concluded the session by introducing various initiatives that NXPO has implemented to improve an innovation ecosystem. These include new measures and regulations to promote public-private joint investment, university holding company program and Thai Bayh Dole Act. NXPO is working with the Innovation Club in revising regulations to facilitate fundraising for startups.