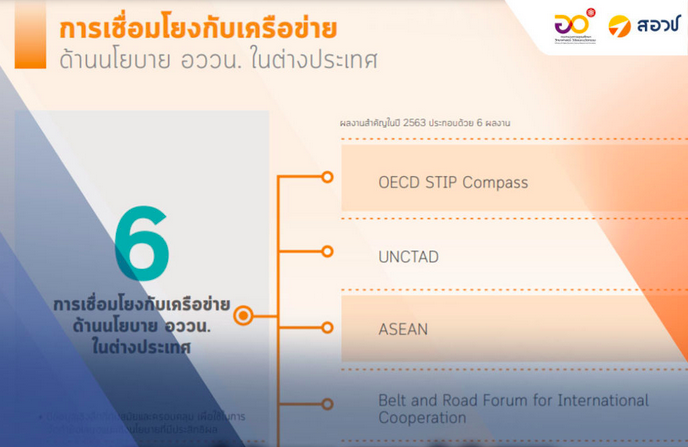 In 2020, NXPO's work focused on driving the higher education, science, research and innovation (HESRI) policy and HESRI system reform that would enable the exploitation of HESRI in all sectors for long-term national development as well as short-term recovery from the pandemic. The work in 2020 can be categorized in 6 areas and this article focuses on international collaboration.
The work on international collaboration aims to acquire in-depth data and information from other countries and international organizations for policy study and design, build research and innovation networks between Thai and international players, elevate the quality of Thai research through international collaboration and create visibility of Thailand in an international arena. Highlights of this mission in 2020 include:
OECD STIP Compass. NXPO prepared STIP Compass Thailand Overview, a country report on science, technology and innovation (STI) policy, for the OECD STIP Compass Database. STIP Compass Thailand Overview details initiatives and progress on Thailand's STI policy in seven areas: 1) governance, 2) public research system, 3) innovation in firms and innovative entrepreneurship, 4) science-industry knowledge transfer and sharing, 5) human resources for research and innovation, 6) research and innovation for society and 7) emerging trends in STI policy. The database is publicly accessible, thus making STI information on Thailand accessible to international communities.
The United Nations Conference on Trade and Development (UNCTAD). Collaboration between NXPO and UNCTAD started in 2013, when UNCTAD dispatched a team of experts to assist NXPO with Thailand's STI policy review. Since then, NXPO have invited experts from UNCTAD to conduct a number of training sessions in innovation management for Thai personnel. NXPO has been representing Thailand in the Commission on Science and Technology for Development (CSTD) in which UNCTAD serves as the commission secretariat for two consecutive terms, 2015-2018 and 2019-2022. Through CSTD, NXPO is able to interact and establish collaboration with S&T organizations from other nations and international organizations.
The Association of Southeast Asian Nations (ASEAN). NXPO was assigned to lead an ASEAN initiative to take stock of ASEAN S&T assets for ASEAN Plan of Action on Science, Technology and Innovation 2016-2025 (APASTI). An ad-hoc committee was set up to design and drive a survey study on basic information and STI indicators of ASEAN. The study report was presented to the 77th Meeting of the Committee on Science, Technology and Innovation (COSTI-77), the 8th Meeting of Board of Advisers to COSTI (BAC-8). At BAC-9 held virtually on 18 September 2020, NXPO was invited to participate in an ad-hoc committee responsible for designing deliverables for APASTI 2016-2025.
Belt and Road Forum for International Cooperation. Through its regular participation in the Belt and Road Forum for International Cooperation and side meetings, NXPO was invited to join STI Think Tank Network for the belt and road region initiated by the Chinese Academy of Science and Technology for Development (CASTED). NXPO entered into an agreement to become a STI Think Tank Network member during the Pujiang Innovation Forum 2020 held online on 27 October 2020 and gave a presentation on STI role in post-COVID poverty eradication effort. NXPO's presentation called for regional cooperation in STI policy and innovative solutions to address urgent issues such as poverty and post-pandemic recovery for sustainable growth.
Newton UK-Thailand Research and Innovation Partnership Fund. The partnership, initiated in 2015, brings together STI agencies in Thailand and the UK to strengthen science and innovation capacity through actions in three areas: People, Research, Translation. Under this partnership, NXPO worked with Innovate UK and National Endowment for Science Technology and the Arts (NESTA) in the implementation of the Global Innovation Policy Accelerator (GIPA) to develop capacity of innovation policy leaders and build a network of policy leaders in ASEAN and the UK for future collaboration. In the current phase of Newton UK-Thailand Partnership, NXPO is designing a new project called Future Leaders in Innovation Policy (FLIP) to continue developing capacity of innovation policy leaders and managers in Thailand and maintaining the ASEAN-UK network of policy leaders, as well as supporting pilot projects to test innovative solutions. NXPO also worked with the British Council on two projects: FameLab and Institutional Links Programme in 2020.
United Nations Framework Convention on Climate Change (UNFCCC). NXPO serves as the national designated entity (NDE) of the Climate Technology Centre and Network (CTCN), the operational arm of the UNFCCC Technology Mechanism. In 2020, NXPO in collaboration with the Office of Natural Resources and Environmental Policy and Planning (ONEP) and German International Cooperation (GIZ) developed Climate Change Adaptation Technology Roadmap and Database to assess country's requirements and issue recommendations in six areas: 1) water management, 2) agriculture and food security, 3) tourism, 4) public health, 5) natural resource management, and 6) human settlement and security. Thanks to its active role in climate change actions, Thailand was selected to pilot SME Clinic run by CTCN to support SMEs to uptake climate technologies and present policy recommendations at the webinar "Technology Action Plan Supporting Webinar (TAPSUPWEB)" organized in 2021.