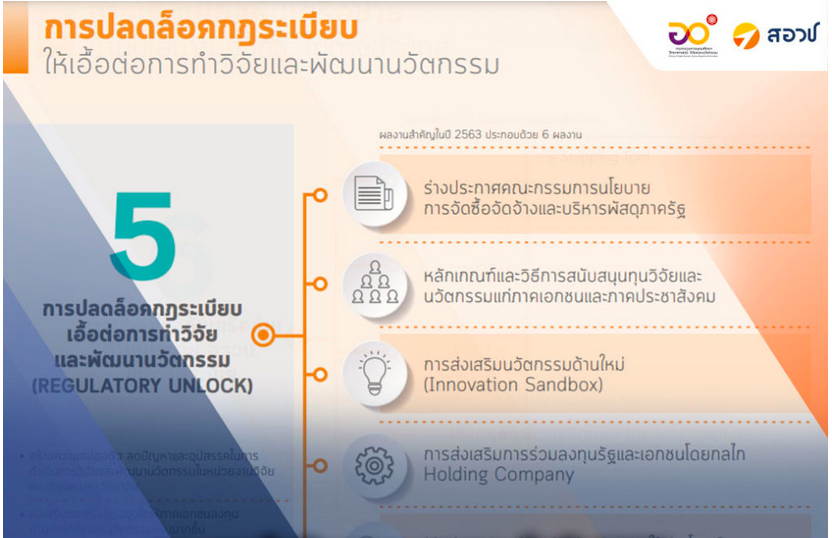 In 2020, NXPO's work focused on driving the higher education, science, research and innovation (HESRI) policy and HESRI system reform that would enable the exploitation of HESRI in all sectors for long-term national development as well as short-term recovery from the pandemic. The work in 2020 can be categorized in 6 areas and this article focuses on unlocking legal regulation.
The work on unlocking legal regulation aims to create a healthy innovation ecosystem by removing legal and regulatory barriers for all players in the ecosystem including academia, industry and the civic society. Highlights of this mission in 2020 include:
Public Procurement. NXPO proposed a revision to the government procurement regulations, particularly on the items pertaining to research and development. The revised regulations will expedite the procurement of materials and services required for research activities in public organizations. The proposal was approved by the National Higher Education, Science, Research and Innovation Policy Council (Policy Council) on 17 September 2020. The new regulations have been submitted to the national public procurement committee for consideration and implementation.
Research and Innovation Fund for Private Enterprises and the Civic Society. NXPO has proposed a new criteria and management of public research and innovation fund to promote innovation in enterprises and the people sector. The new regulations will allow public research fund to be granted to the civic society and enterprises, including SMEs and startups, as well as standardize the fund management and operation, thus boosting industry- and society-driven research and innovation. The new regulations were approved by the Policy Council on 17 September 2020.
Innovation Sandbox. Innovation sandbox provides an environment so that new technologies can be safely tested under the strict supervision of the regulators. It will allow cutting-edge technologies to be fully developed, while public safety and privacy can be safeguarded, and any implication can be carefully examined so that proper measures and laws can be put in place. The sandbox will promote the development and commercialization of advanced technology, thus stimulating an innovation-driven economy. The concept of innovation sandbox proposed by NXPO was approved by the Policy Council in 2019. NXPO is in the process of collecting information in order to set priority on issues such as laws, regulations and procedures to be reviewed and amended as well as devise proper mechanisms to advance the causes through an engagement of stakeholders, including entrepreneurs, researchers, public and private entities.
University Holding Company. A university holding company mechanism is recognized as a strategy to promote commercialization of research and innovation in public universities and research agencies. This mechanism has been successfully employed by leading universities and government research agencies around the world, resulting in significant income and employment generation. It is also viewed as a strategy to increase the portion of public R&D investment to 30% by 2022. NXPO in consultation with universities has developed guidelines for universities to set up a university holding company and measures to promote public-private joint investment through the university holding company. The guidelines and measures were approved by the Policy Council on 17 September 2020. An Ad Hoc Committee on Ecosystem Promotion and Revision of Laws and Regulations has been established to design procedures and incentive measures to facilitate the implementation of university holding company.
Thai Bayh Dole Act. The Thai Bayh Dole Act has been proposed by NXPO on behalf of Ministry of Higher Education, Science, Research and Innovation (MHESI). The Act grants ownership of inventions made with government funding to inventors – mostly universities and research institutes, thus providing inventors the power to manage their IPs and the freedom to negotiate licensing terms that would best encourage the commercialization of technology. It also includes the profit-sharing principle which will gives incentive researchers and guidelines for the government to issue compulsory licenses in case of national emergencies. This bill is expected to boost the transfer of technology from the public sector to industry, promote technology and innovation utilization, create many more spin-offs and start-ups to drive an innovation-driven economy, encourage inventors to develop novel products or services to meet market demand and invigorate the country's overall economy. The draft Thai Bayh Dole Act was approved by the cabinet on 22 December 2020 and proceeded to the joint committee comprising members of the House of Representatives and the Senate for the approval.
Regulatory Framework for BCG Action Plan. In preparation of BCG in Action: The New Sustainable Growth Engine – a document proposing the bio-circular-green economy as an economic model for sustainable development, it was found that some of existing regulatory frameworks were not accommodating to the BCG model and there were insufficient incentive measures to promote the BCG model. Recommendations on regulatory framework were put together for the BCG roadmap. These recommendations include improvement in production licensing and product registration processes involved in the BCG-related industries. In addition, NXPO performed studies identifying and prioritizing legal barriers to research and its application in four main sectors of BCG economy – agriculture and food; medical and wellness; bioenergy, biomaterial and biochemical; and tourism and creative economy – and submitted the report to be integrated in the Innovation Sandbox initiative.