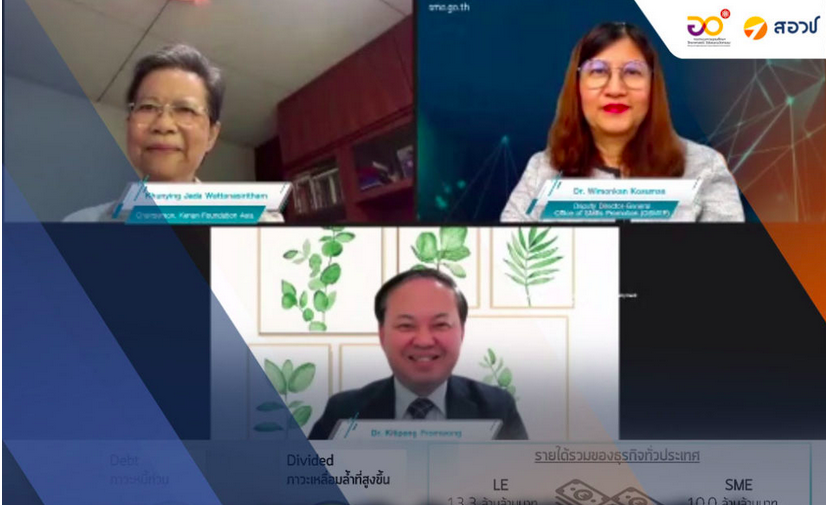 On 11 August 2021, NXPO President Dr. Kitipong Promwong joined a panel of experts in a webinar on "Unlocking SME Potential" organized by Kenan Foundation Asia and the Office of SMEs Promotion. His presentation focused on the next normal trends and SME outlook. His presentation is summarized below.
A joint study conducted by NXPO and Thailand Development Research Institute (TDRI) revealed that it would take at least 1 to 2 years for the Thai economy to recover from the economic impact caused by the pandemic. As Thailand has been facing the successive COVID-19 waves, Thai SMEs are experiencing investment delay, cumulative debt and risk of closing down businesses, whereas the government is dealing with rising unemployment rate. The pandemic has also accelerated 6D trends: debt especially among the grassroots, division of the haves and have-nots, degradation of the environment, deglobalization, divergence between East and West and digitalization.
While work-from-home has accelerated the adoption of digital technology and e-commerce, it has delayed the transition of some technologies such as renewable energy and robotics. Work-from-home trend continues to have a negative effect on property sector, while creating a positive effect on retail and e-commerce sectors. The pandemic also threatens to reverse the progress in poverty eradication.
As tourism revenue contributes substantially to Thailand's GDP, its economic growth is greatly affected by the prolonged pandemic. The pandemic has driven workforce from manufacturing sector to agricultural sector, as workers return to their hometown. However, this trend could reverse when the pandemic subsides. To prepare for the shift in job landscape, Ministry of Higher Education, Science, Research and Innovation (MHESI) launched reskilling, upskilling and new skill programs in various areas such as smart farmers. In a health sector, telemedicine is a promising area as it can save cost. Education will be leaning towards a hybrid format and non-degree programs to support reskilling and upskilling of workforce to meet industry's requirements.
To free Thailand from the middle-income trap, it is vital that SMEs are upgraded to IDEs (innovation-driven enterprises). The government has set a target of creating 1,000 one-billion-THB IDEs with acceleration programs. In addition, there are a number of initiatives that support and promote SMEs. Innovation Fund for Industry has recently been initiated to provide financial support to encourage growth and enhance competitiveness of Thai SMEs with technology and innovation. The 200% tax exemption will be offered to enterprises making donation to the innovation fund. In addition, a university holding company scheme has been introduced. The scheme enables flexibility, agility and business-driven decision making, as well as facilitates spinoff companies and joint investment with industry. Five universities already set up holding companies. The Program Management Unit for National Competitiveness Enhancement (PMU-C) provides research fund for SMEs to increase their technological capacity. Tax incentives are provided to enterprises engaging in human resource development and building up STEM workforce. An innovation platform is being built in regional science parks to promote innovation in each geographical area to strengthen a local economy, which would result in income and wealth distribution.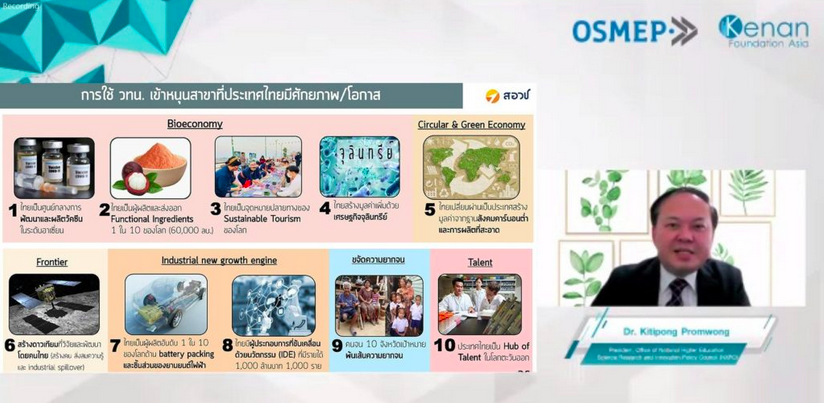 By employing science, technology and innovation, Thailand has potential to achieve the following targets: 1) become a vaccine research and production hub of ASEAN, 2) rank in the world's top-10 producers and exporters of functional ingredients, 3) become a sustainable tourism destination, 4) enable value creation with microbial technology, 5) transition to low-carbon and clean-tech economy, 6) possess capability to build Thai-made satellites, 7) rank in the world's top-10 producers of battery packing and EV parts, 8) have 1,000 one-billion-THB IDEs, 9) people in 10 target provinces lifted out of poverty, and 10) become Hub of Talents in the East. These targets align with 13 milestones of the 13th National Economic and Social Development Plan (2023-2027).
Other topics covered in the webinar were Next Normal Trends, Digital Transformation, Sustainability, Future of Work and Next Normal Consumers.