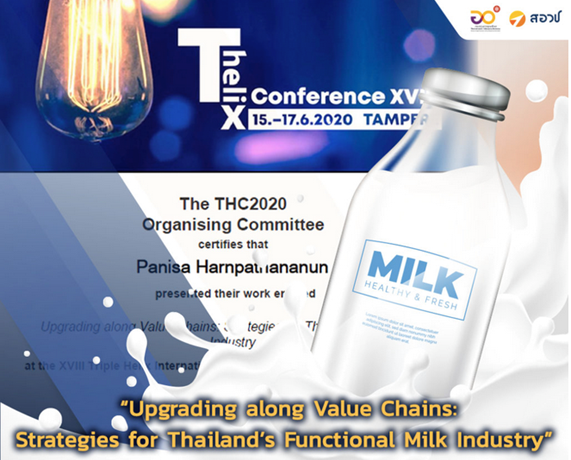 Upgrading along Value Chains: Strategies for Thailand's Functional Milk Industry is a report produced by NXPO policy expert Ms. Panisa Harnpathananun. The study result was presented at The XVIII Triple Helix International Conference, virtually held on 16 June 2020.
In this study, barriers restricting the growth of functional milk industry were analyzed and recommendations were made. Obstacles to the growth were identified as technological limitation in pasteurization process, complicated procedures to obtain health food certification and functional food verification and the lack of intermediary between enterprises and regulators.
Proposed recommendations included an establishment of a quadruple helix platform to facilitate collaboration between government agencies, enterprises, academia and community, an improvement on regulations to address new products and processes – in this case the ESL (extended shelf life) milk, and a formation of intermediary to facilitate quality certification processes, especially in the area of health claim.
Full paper of this study can be downloaded from the following link: https://bit.ly/3dWAxEn.