In addition to the healthcare challenge, the COVID-19 pandemic also makes a significant impact on waste management. PPE waste – gloves, surgical masks, surgical caps, shoe covers, and single-use PPE, for instance – accumulates at a rapid rate during the pandemic. Generally, infectious waste is incinerated and autoclaved before disposing as municipal waste. This treatment method is found to be limited and, if operated inefficiently and without good standards, can potentially have negative effect on surrounding communities and the environment.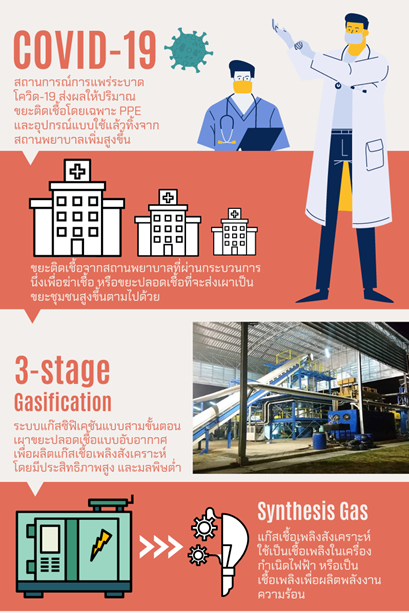 Thailand Institute of Scientific and Technological Research (TISTR) has developed a 3-stage gasification process to treat non-medical waste and medical waste that has been autoclaved and convert to energy. Located at TISTR's Lamtakhong Research Station in Nakhon Ratchasima, the 3-stage gasification demonstration plant has a daily capacity of 10 tons of waste and a 200kW electricity generation. Syngas produced from the gasification, consisting of hydrogen and carbon monoxide, can be used to generate electricity and heat.
The 3-stage gasification for converting non-medical waste to electricity was conceptualized by TISTR in collaboration with Namwiwat Engineering (1992) Company Limited. In 2020, the team obtained funding from PMU-C to explore its application with single-use PPE and build a pilot plant and a learning center for waste (PPEs and non-medical) management with 3-stage gasification.