The recent Future Talk by NXPO placed a focus on space technology development in Thailand, with two invited speakers, Dr. Phongsatorn Saisutjarit and Mr. Chawalwat Martkamjan. Dr. Phongsatorn is a lecturer at the Department of Mechanical and Aerospace Engineering, King Mongkut's University of Technology North Bangkok (KMUTNB) and Acting Director of International Institute of Space Technology for Economic Development (INSTED), whereas Mr. Chawalwat is Sub Project Manager of BCCSAT-1 and President of UNISEC Thailand.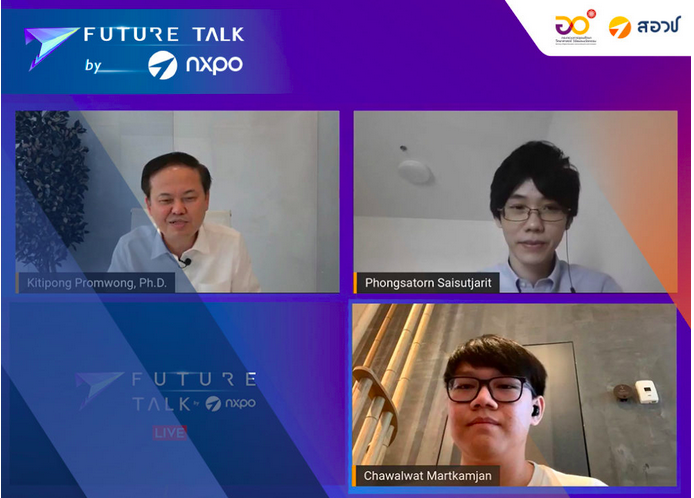 Dr. Phongsatorn gave a brief introduction of himself. After completing his doctoral degree from Japan under the Thai Government Scholarship program, he then joined KMUTNB and later received funding from the National Broadcasting and Telecommunications Commission (NBTC) to build KNACKSAT, the first Thai-built CubeSat satellite. KnackSat was launched into the orbit in 2018. KMUTNB established INSED with a vision to build Thailand's first Jet Propulsion Laboratory to focus on space research and its application for the economic development.
Mr. Chawalwat is about to start his first year of the nano engineering undergraduate program at the Faculty of Engineering, Chulalongkorn University. During his high school years at Bangkok Christian College (BCC), he participated in the BCC Space Program that taught students to create BCCSAT-1, a 1U CubeSat, with a mission to take satellite images for agriculture and forestry mapping. BCCSAT-1 was sent to the orbit on 22 March 2021. He is also President of UNISEC Thailand with a vision elevate capabilities of Thai space industry workforce to international standard.
Dr. Phongsatorn pointed out an importance of space and satellite education and research as they are the origin of many other technologies commonly utilized. Satellites are used for many purposes. Examples include Earth observation satellites, communications satellites and optical satellites – the type that the Thai Space Consortium (TSC) plan to develop that will support smart farming application.
TSC aims to facilitate the development of human resources and ecosystem for the space technology and industry. It recently announced a plan to develop series of spacecrafts, including the first called TSC-1 expected to be launched in 5 years. The National Innovation Agency (NIA) has a funding program to sponsor Thai startups to participate in the building of these Thai-made spacecrafts. TSC also launched a space competition called Space Fight for students to propose ideas for experiments in space. The winner will have his/her proposed experiment carried out in the space.
To end their talks, Dr. Phongsatorn stressed that Thailand has capability and manpower to develop space technology, whereas Mr. Chawalwat encouraged Thai public to take part in several activities organized by TSC to gain better understanding in space technology.
NXPO President Dr. Kitipong Promwong added that TSC is mainly supported by Ministry of Higher Education, Science, Research and Innovation (MHESI), with the National Astronomical Research Institute of Thailand (NARIT) as the main driver. Membership of the consortium include Synchrotron Light Research Institute, Geo-Informatics and Space Technology Development Agency (GISTDA), Suranaree University of Technology, King Mongkut's University of Technology Thonburi (KMUTT), Mahidol University and Chiang Mai University. TSC has collaborations with international partners such as the Chinese Changchun Institute of Optics, Fine Mechanics and Physics (CIOMP), the French Institute of Optics and Korea Astronomy and Space Science Institute (KASI).