At the invitation of BLCP Power Plant, NXPO President Dr. Kitipong Promwong recently gave a presentation on Bio-Circular-Green (BCG) economy model to an audience of 140 BLCP executives and staff. Located in Map Ta Phut Industrial Estate, BLCP Power Plant operates a coal power plant.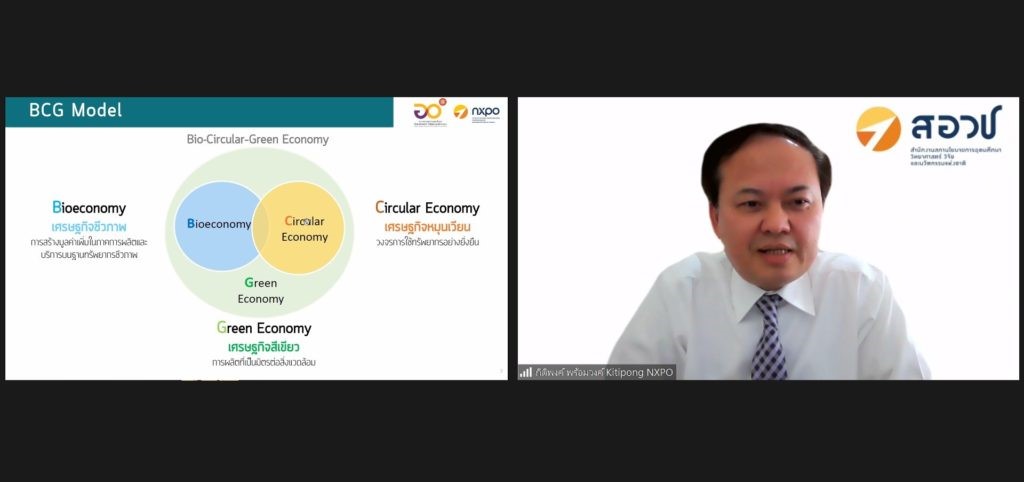 Dr. Kitipong opened his talk with the concept of BCG economy model that supports the sustainable development by building a bio-based economy and emphasizing circularity and eco-friendliness. The model is applied to four sectors: 1) agriculture and food such as smart farming, precision agriculture, new economic crops and livestock and satellite image; 2) medical and wellness such as natural products, gene therapy, vaccine, biopharmaceutical, medical device, genomic medicine and telemedicine; 3) energy, biochemicals and materials such as biomass power plant, biorefinery, hydrogen power plant, oleochemical industry; and 4) tourism and creative economy such as wellness tourism and creative products.
While Thailand is a world-leading exporter of sugarcane and cassava, the country is highly dependent on energy and chemical imports at the value of 1 trillion and 500 billion THB, respectively. More than 40 million tons of biomass have not been fully utilized and treated properly. Theses are challenges in the energy, biochemicals and materials sector which can be overcome with technology and innovation.
Dr. Kitipong also suggested government funding programs to enterprise in the BCG sectors. Startups can apply for matching fund from agencies such as the National Innovation Agency (NIA), the Board of Investment (BOI) and Program Management Units (PMUs) for projects in the BCG scope, which also includes area-based development to uplift the livelihood of people in the rural community through the development of local economy.