On 21 June 2021, NXPO President Dr. Kitipong Promwong joined the launch of UNDP Accelerator Lab in Thailand. Accelerator Lab is a global learning network on sustainable development. Thailand's Accelerator Lab will be working with other 90 Accelerator Labs in 115 countries to accelerate the development and implementation of solutions to sustainable development challenges.
UNDP Accelerator Lab works with national partners to create actionable intelligence, test solutions. Thailand already has a vibrant innovation ecosystem powered by the public, private and people sectors that enables the exploitation of STI to bring changes to the economy and society. Thailand Policy Lab was co-founded by the Office of the National Economic and Social Development Council (NESDC) and the UNDP to accelerate the impact of innovation in public policy and services in Thailand. Thailand's Accelerator Lab will therefore be working closely with Thailand Policy Lab to experiment and develop evidence for designing policy and solutions to various challenges to Sustainable Development Goals (SDGs).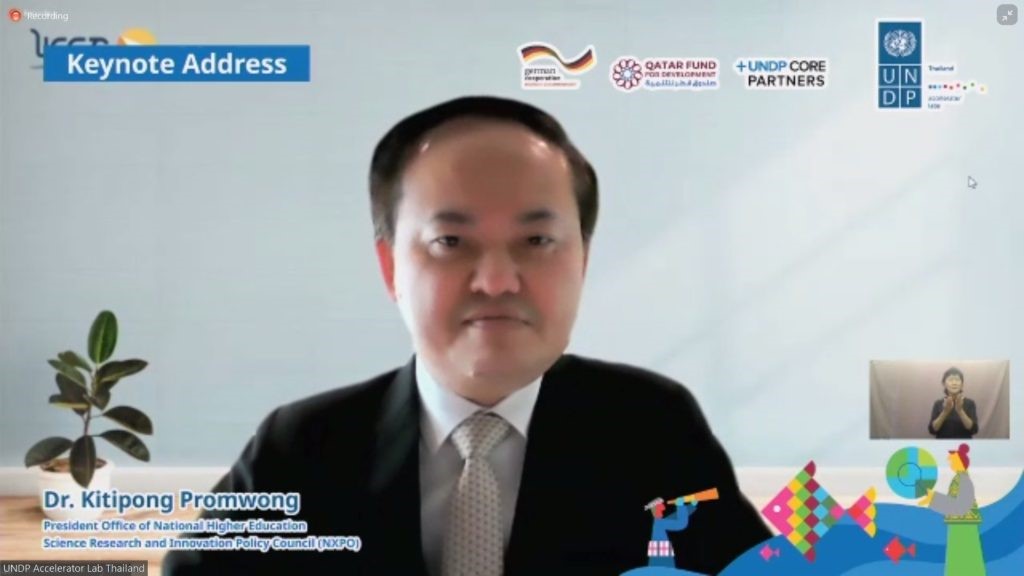 In his keynote address, Dr. Kitipong pointed out the enormous impact caused by the COVID-19 pandemic which could impede the achievement of SDGs by 2030. Governments around the world need to review their national development and develop recovery plan accordingly. The recovery plan should introduce new opportunities for development and ensure inclusiveness. The latest statistics showed that there were 983,316 poor people in Thailand. Accelerator Lab can help develop solutions to lift these people out of poverty. The project can be piloted in 10 provinces with the lowest per capita income, aiming to eradicate poverty within 5 years.
Thailand also sets a goal to escape from the middle-income trap by transitioning to an innovation-driven economy and strengthening STI capacity of enterprises and entrepreneurs to support new business opportunities. The government can drive this transformation by creating a dynamic innovation ecosystem.
Thailand needs to ramp up its effort on waste minimization and sustainable production and consumption to transform to a circular economy. To meet the target of 1/4 resource-use reduction and 25% greenhouse gas emission reduction, all sectors must get involved.
Human capital is essential for long-term development. New generations must be equipped with the right skills and competencies for jobs in the 21st century and beyond. Women and the underprivileged shall not be left out of the manpower strategic plan.
Dr. Kitipong concluded his talk highlighting a vital role of Accelerator Lab to expedite the recovery and the path to achieve SDGs through policy design and implementation.