NXPO President Dr. Kitipong Promwong recently revealed the results of the survey of 2019 R&D expenditure and manpower in the public and private sectors conducted by NXPO and the National Research Council of Thailand (NRCT). In 2019, Thailand's gross expenditures on R&D (GERD) totaled 193.072 billion THB or 1.14% of GDP, a 5.9% growth from the previous year. Of this amount, 149.244 billion THB (77%) was contributed by the private sector, whereas 43.828 billion THB (23%) by the public sector. While the enterprise R&D investment aims at generating economic return, the public R&D expenditure focuses on frontier research – mainly quantum technology, space science & technology, high energy physics and molecular biology in the past year – and basic research as well as manpower development.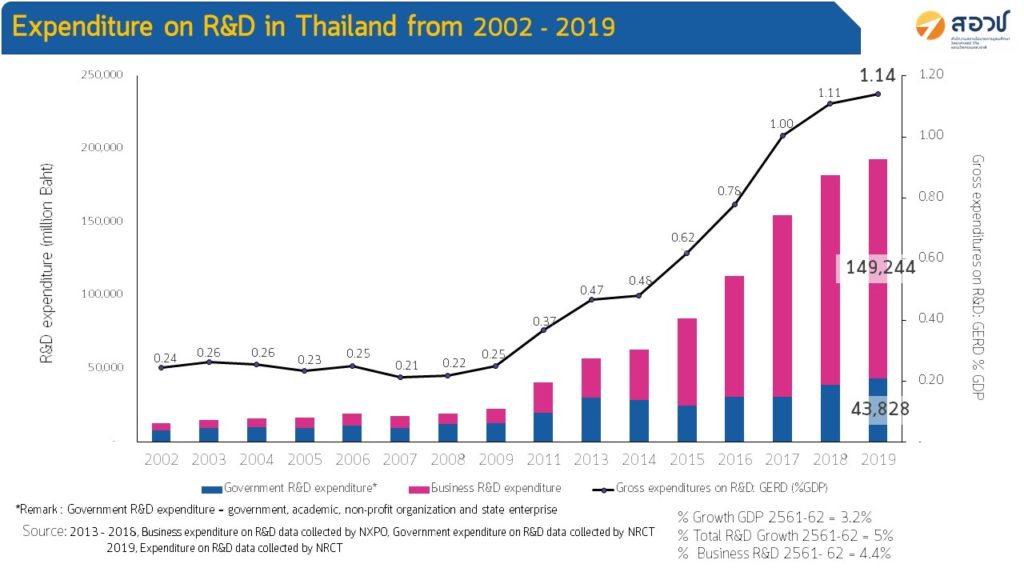 The top-spending industrial sectors were (1) food industry at 32.321 billion THB spending on infrastructure for food innovation, R&D in waste minimization and utilization, as well as product development; (2) petrochemical industry at 11.958 billion THB investing in product and process improvement, scale-up process, cost reduction and lateral expansion; and (3) finance and insurance at 11.579 billion THB allocating to mobile banking platform, cybersecurity and new business opportunity.
The total number of R&D personnel in full-time equivalent was 166,788 in 2019 or 25 per 10,000 people, a 4.6% jump from the previous year. The goal is to raise this number to 40 by 2027. The proportion of R&D personnel in the public to the private sector was 69:31.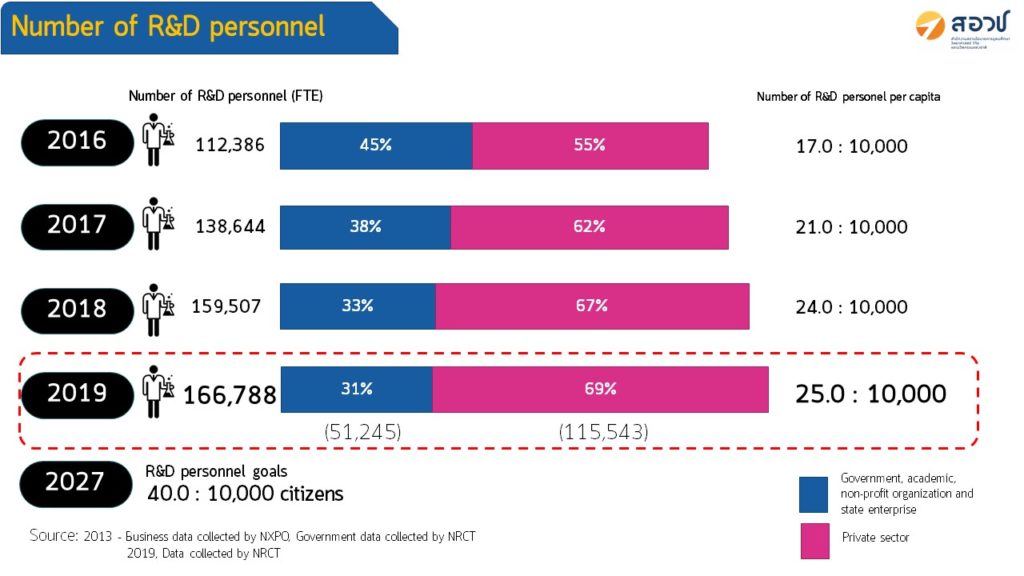 The COVID-19 pandemic will continue to cause enormous impact to the global economy. Enterprises will cut down expenses to save their businesses and among them are R&D expenses. Thailand's GERD is expected to take a big hit from 2020 to 2022, falling below 1% GDP, and started to rise afterward. GERD is predicted to be 0.91%, 0.94% and 0.96% of GDP for 2020, 2021 and 2022, respectively. Without any new measures to boost R&D investment in the private sector, GERD is expected to reach 1.46% of GDP in 2027, missing the 2% target.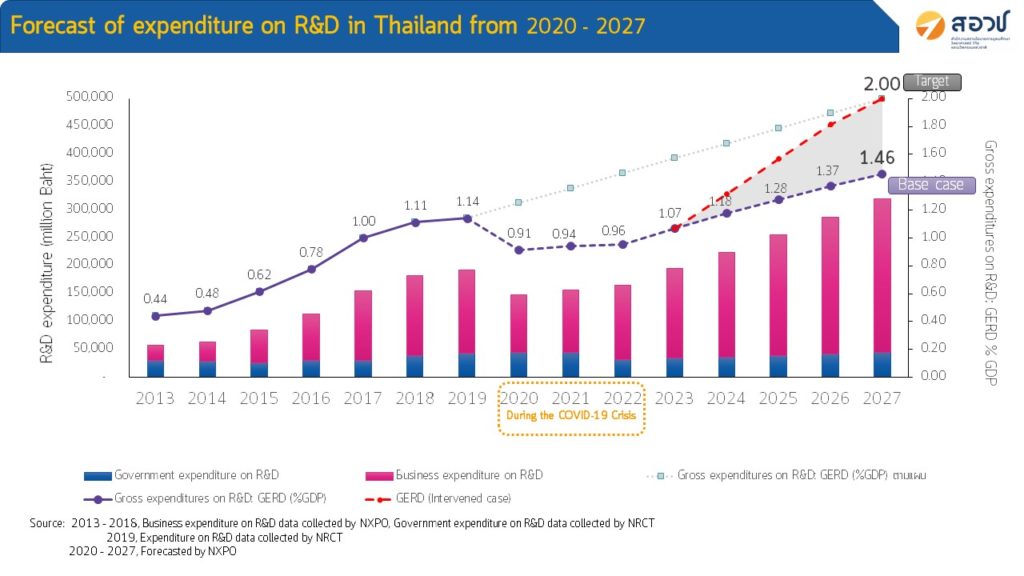 Mechanisms that will drive the R&D investment include 1) various types of funds such as the Science, Research and Innovation Fund, the Higher Education Fund and the Competitiveness Enhancement Fund for Target Industries; 2) tax incentives such as 200% tax deduction on donation an enterprise made to Innovation Fund for SMEs; and 3) unlocking barriers to innovation businesses such as allowing a public fund to match enterprise R&D investment.
Among public policies that promote enterprise R&D are 1) developing an innovation ecosystem with measures such as issuing tax incentives; 2) HR policy giving flexibility to university staff to spend time working in partner companies; 3) finance policy to attract enterprise investment through a matching fund program; 4) investment made in research and innovation infrastructure to serve the private sector; 5) easing regulations such as streamlining certification processes; and 6) a support center for SMEs to provide assistance and coaching on access to market and investment.
Public R&D investment will focus on, in addition to research grant, supporting accessible innovations and SMEs, as well as encouraging market-driven research and innovation businesses through Thai Bayh Dole Act.
NXPO President concluded that R&D investment is the key to lead Thailand out of the middle-income trap, reduce social inequality, alleviate poverty and create social and environmental sustainability. He expressed confidence that the target 2% GERD will be achieved with the current and new measures in the planning.