NXPO Vice President Dr. Kanchana Wanichkorn gave a presentation on "Bio-Circular-Green (BCG) Economy Model: The new sustainable growth engine" at Pujiang Innovation Forum 2021 on 2 June 2021. BCG economy model is Thailand's national agenda aiming to employ science, technology and innovation to enhance the competitiveness of all players in the value pyramid from upstream to downstream in four strategic industries: agriculture & food, medical & wellness, bioenergy, biomaterial & biochemical, and tourism & creative economy.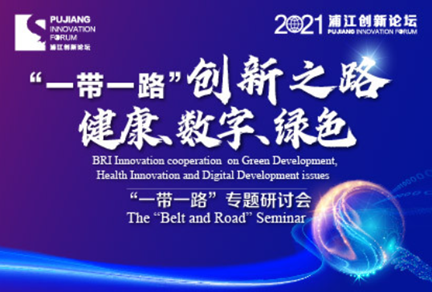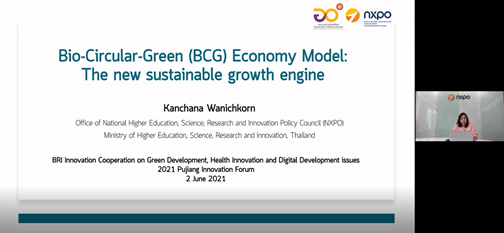 Dr. Kanchana proposed initiatives such as BCG Economy Policy Forum, BCG Technology Foresight & Business Outlook, and Circular Economy Design & Business Innovation Platform as platforms that would strengthen BCG collaboration among countries in the belt-and-road (BRI) region.
Pujiang Innovation Forum 2021 was jointly organized by China's Ministry of Science and Technology (MOST) and Shanghai Municipal People's Government. The event was participated by countries in the vastly covered BRI region, including China, the United Arab Emirates, Serbia, Egypt, Pakistan and Thailand. NXPO was invited to speak in the session titled "BRI Innovation Cooperation on Green Development, Health Innovation and Digital Development".