An MOU signing ceremony was held between NXPO and the Thai Sustainable Consumption and Production Network (Thai SCP Network) on 29 March 2021. The partnership aims at enabling the transformation to a circular economy (CE). The event took place at NXPO office with NXPO President Dr. Kitipong Promwong welcoming Thai SCP Network President Dr. Wijarn Simachaya and the network's board members and advisor, including Dr. Pongvipa Lohsomboon, Assoc. Prof. Dr. Thumrongrut Mungcharoen and Dr. Chaiyod Bunyagidj.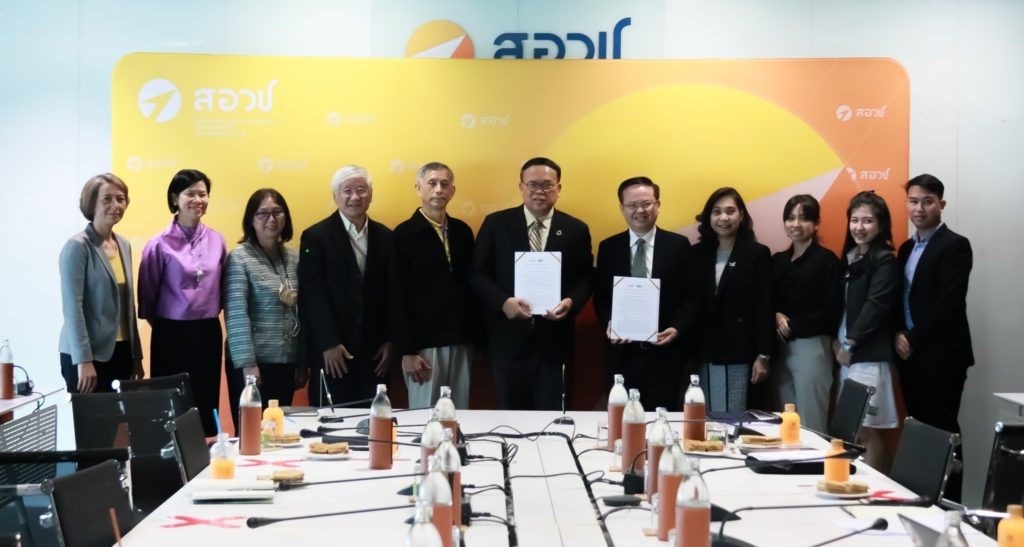 CE offers solutions to create a more sustainable economic growth as the concept is based on decoupling economic activity from the consumption of limited resources and designing waste out of the system. It forms a key element to achieve the Sustainable Development Goals (SDGs). NXPO has conducted studies and proposed a dual-track CE transition model for Thailand which is to minimize/eliminate waste and to develop a new business opportunity through platforms such as CE Design Platform. Thai SCP Network will serve as an essential partner to create a business model in which corporates value total social benefit to enable sustainability. The collaboration will also focus on designing interventions for CE policy deployment – legal/regulation framework as well as investment measures – to propose to the National Policy Council National Higher Education, Science, Research and Innovation Policy Council.
Thai SCP Network has been active in driving CE through activities promoting sustainable consumption and production (SCP) with the support from its members representing public and private enterprises and university lecturers. The network addresses 11 sectors; industry, agriculture & food, tourism & services, capital markets, education & research, STI, civil society & NGOs, policy & planning, awareness & lifestyles, sustainable procurement, and other related topics.
Potential joint activities between NXPO and Thai SCP Network were identified during the meeting of the executives. Examples include a CE Innovation Policy Forum and some pilot projects.