Deep Tech Startup & Recovery Forum Special Talk by NXPO took place recently with invited speaker Assoc. Prof. Dr. Boonrat Lohwongwatana, CEO and Founder of 3D-printed medical implant company Meticuly to share his experience launching a deep tech startup.
NXPO Vice President Dr. Kanchana Wanichkorn stated the objective of this forum as a platform for researchers, lecturers and startups in deep technology to share their experience in establishing a business venture and for NXPO to obtain information, especially about obstacles and barriers, for designing policy and measure to facilitate the growth of deep tech startups in Thailand. Initiatives that have been launched by NXPO to build a healthy startup ecosystem include innovation sandbox, Thailand Business Innovation Research (TBIR) program, University Holding Company and Thai Bayh-Dole Act.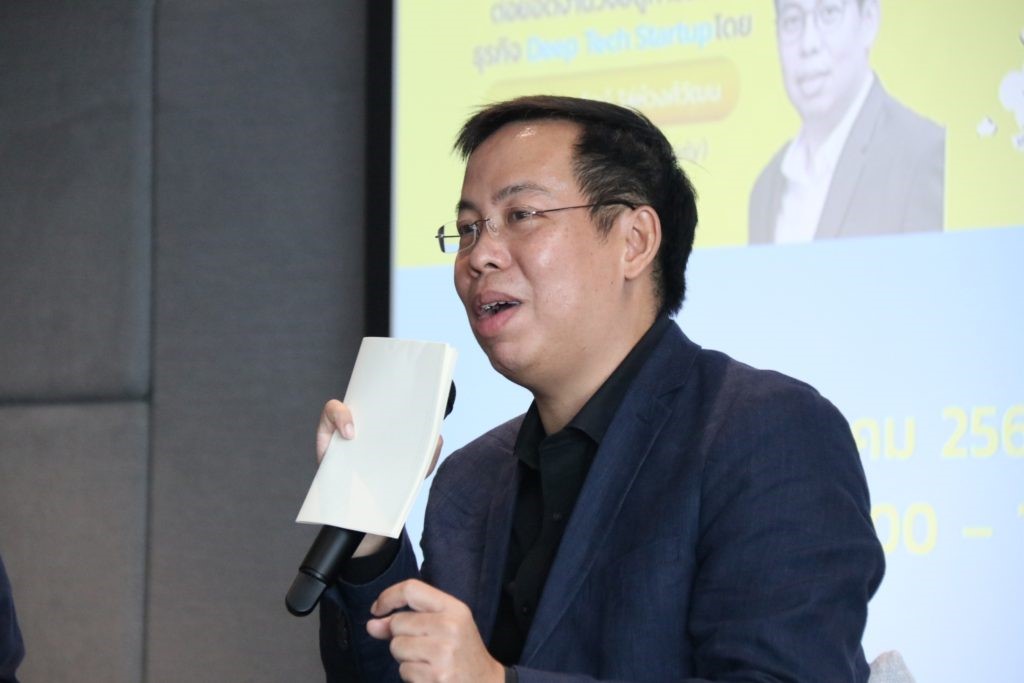 Dr. Boonrat described the origin of his company that it started off from a small group of engineers assisting a physician in creating a thumb prosthesis for a cancer patient using 3D printing of biomedical titanium and grew into a deep tech startup focusing on the platform to create custom-made prosthesis. Speaking from his experience, Dr. Boonrat said that a successful startup must focus on the application of its innovation. In his case, he employed his expertise in metal 3D printing to provide a solution to orthopedic surgeons. It drove him to gain more understanding on users such as requirements and limitations in orthopedic surgery, for instance, and also compliance with regulations. He was inspired by the capability of Thai medical professionals and would like to support them with high quality medical devices.
While agreeing that several of NXPO initiatives such as the Thai Bayh-Dole Act, university holding company and supporting networking have been very helpful to Thai startups, Dr. Boonrat voiced the need to improve the long process to register products/services on the Thai Innovation List. He added that there is no right formula to set up a startup, but the most important element is the team.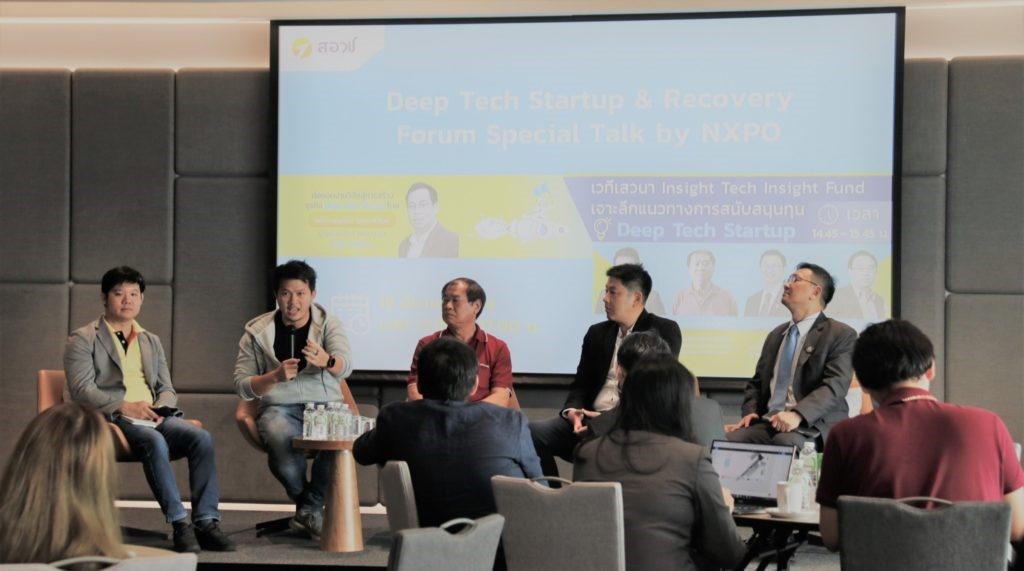 The forum also included a discussion session with panelists from Siamraj Public Company Limited, National Innovation Agency (NIA), Chulalongkorn University Innovation Hub and Program Management Unit for National Competitiveness Enhancement (PMU-C). Each representative provided information and view of his/her organization on deep tech startup.
PMU-C focuses on supporting translational research to enhance the nation's competitiveness. The funding covers seven industrial sectors: 1) agriculture and food; 2) tourism and creative economy; 3) energy, biochemical and biomaterial; 4) digital platform; 5) circular economy (CE); 6) the future of mobility, robotics and automation; and 7) wellness and medicine. Proposals submitted to PMU-C must be in line with the work programs and meet requirements such as expected outputs corresponding to objectives and key results (OKRs), TRL level 4 and up, no less than 25% matching fund, a solid commercialization plan and a comprehensive team. In addition, PMU-C has also established a sandbox platform for deep tech startups to test their innovations and worked with universities to set up an accelerator platform providing a mechanism to take research to market and connect to investors. Projects that have international collaborators are encouraged as they can help reach out to global markets.
Chulalongkorn University Innovation Hub was established with a mission to commercialize research. The fund comes from donations received from students and alumni and is used to support startups and entrepreneurs with a clear business plan and growth potential. The hub has recently expanded its activity to upcountry where it helps local universities to develop a startup ecosystem in each geographical area.
National Innovation Agency (NIA) provides academic and financial support to drive and support startups. Approximately 10-20% of the startup funding go to deep tech startups. Most deep tech startups are based on emerging technologies and therefore have potential to grow and expand to international markets. Its Thematic Innovation funding scheme will include deep tech in the 2022 work program, whereas its Growth Program aims at building capacity of startups, including deep tech.
Representative of Siamraj Public Company Limited shared his experience in launching a startup. A startup founder must have a vision to take the company to global markets and an open mind to listen to suggestions from business colleagues. At the same time, its products must meet its customers' requirements and the technology is applicable to users. The government should focus on improving the quality of startups, rather than just increasing the number.