The COVID-19 pandemic has made substantial impact on every aspect, one of which is education. New normal is expected after the COVID-19 is under control. Schools reopen with preventive measures. Demand on blended learning of in-person lessons and distance learning has boosted education startups. Universities now offer more courses and programs for skilling, upskilling and reskilling. Students' interest has shifted to new disciplines and has prompted universities to revise and redesign their programs. University students and newly graduates will play a major role in community development, giving rise to local startups and social enterprises.
NXPO President Dr. Kitipong Promwong expected that competition among universities will get more intense. Education will be a blend of in-person lessons and distance learning, focus more on equipping students with professional skills and lifelong learning. The recovery plan for education aims to guide schools and universities to the new normal which include providing effective and high-quality education accessible to all, supporting lifelong learning and facilitating anytime, anywhere education.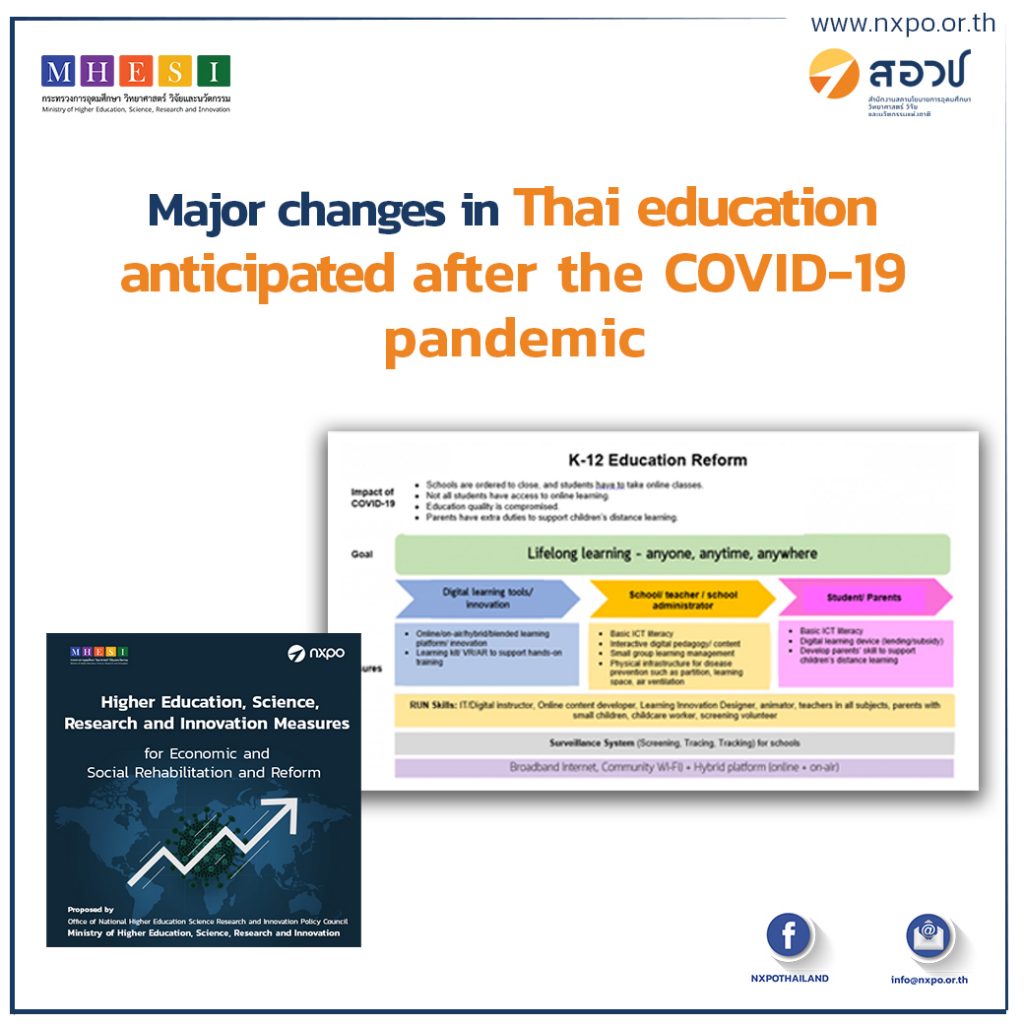 To achieve the goal of education for anyone, anywhere and anytime, each player in the system will have to make adjustments. Schools will need to make new arrangements on facility and education to accommodate social distancing such as installing partitions between desks, introducing hybrid education, upgrading ICT skill of teachers and administrators to be able to utilize digital technology as a learning tool and develop new learning media/materials to replace or complement traditional education, designing content to support distance and interactive learning, as well as providing health education to teachers and administrators. Students and parents will also have to make adjustments such as upgrading digital skill and procuring devices and internet access to support distance education. Schools may need to develop support programs such as subsidizing the cost of equipment or lending equipment to students in need.
In addition, SMEs and startups are encouraged to create innovations to support new normal education, such as a screening, tracing and tracking system for schools, innovative educational media to replace classroom learning or enhance hands-on training, infrastructure supporting distance learning such as high-speed internet in schools or community learning centers, and central platform storing education content for easy access.