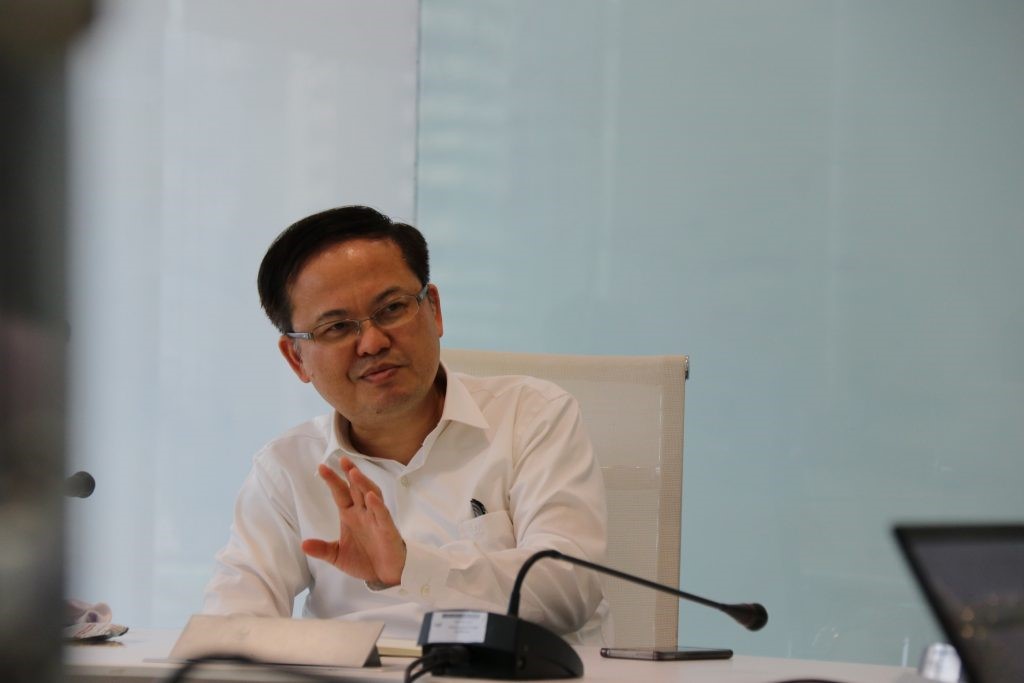 With the recent appointment to lead NXPO for the 2nd term amid the COVID-19 crisis, Dr. Kitipong Promwong reveals that NXPO will have to urgently implement post-COVID recovery plan and ease the country to the new normal. The management of COVID-19 situation can be broken down into four phases:
Restriction Phase (the 1st – 6th months) involves the control of the outbreak. NXPO, in collaboration with Thailand Science Research and Innovation (TSRI), has added a new program on "Solutions to Crisis" into the Higher Education, Science, Research and Innovation Policy and Strategy. This program involves the utilization of knowledge, research and innovation to predict and manage national crises in a timely manner to minimize impacts and damages. Examples include the development of medical devices & supplies, disease surveillance system, public education, as well as public health policy and measures. 
Reopening Phase (the 7th– 12th months) involves the relaxing of control measures, and gradually reopening of businesses. NXPO has developed a manpower development plan which includes reskilling and upskilling workforce who are unemployed or at risk of unemployment due to the pandemic. In addition, NXPO is collaborating with three PMUs (Program Management Units) – recently established research funding bodies – to design funding schemes specifically for SMEs and entrepreneurs which will facilitate technology transfer, market access and community development. 
Recovery Phase (the 13th – 18th months) is the revive of the economy and society. NXPO is currently developing policy recommendations to employ higher education, science, research and innovation to strengthen all sectors, including tourism, SMEs, government services, education, public health, grassroot economy, agriculture and food and creative economy. This set of recommendations will involve 7 areas; 1) impact mitigation by assisting people affected by the pandemic; 2) workforce reskilling and upskilling; 3) digital transformation; 4) big data to enable effective management; 5) R&D investment to create additional value and innovation, facilitate the advancement of research to market, foster entrepreneurs and startups and promote community innovation; 6) circular economy; and 7) revision of laws and regulations to foster innovation development. The policy recommendations will be proposed to the National Higher Education, Science, Research and Innovation Policy Council (Policy Council) and the Cabinet. 
Restructure Phase (the 19th months onwards for the next five years) is the period of introducing systems reform to accommodate the new normal. Application of modern technology and innovation will be introduced into all sectors for sustainability, such as precision agriculture and the development of new tourist attractions in secondary cities. The key factor in this phase is innovation management to advance research to commercialization. University education will be integrated to community development, whereby students will work closely with communities to develop local businesses which will stimulate job creation and income distribution. 
In connection with the COVID-19 recovery plan, NXPO is also playing a key role in implementing the government's Bio-Circular-Green Economic Model or BCG, by setting priorities, identifying agendas, designing measures and mechanisms, and developing manpower through degree and non-degree programs as well as brain circulation program to engage foreign talents.
Kitipong concluded that well-designed policy, adequate budget and effective management will lead the country to the path of recovery and emerge stronger.