NXPO President Dr. Kitipong Promwong recently unveiled a study report on higher education, science, research and innovation measures for economic and social rehabilitation and reform. The study was performed over the period of the COVID-19 pandemic by NXPO in collaboration with experts in various fields – including social sciences, humanities and sciences – from government agencies, industries and academia. The study covers the situation of COVID-19 outbreak; its impact and relief measures in Thailand and other countries; COVID-19 recovery model; post-COVID scenarios and strategic issues supporting economic and social rehabilitation and reform in 6 areas, namely community economy, agriculture & food, tourism, manufacturing & service, education and public health; and a job creation proposal for COVID-19 affected workforce.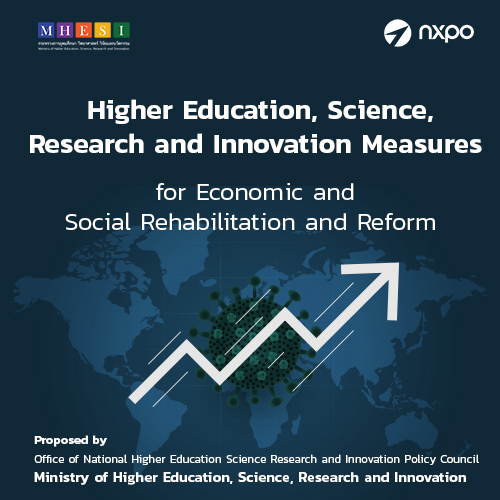 The COVID-19 pandemic has an enormous impact on society and economy. As the disease rapidly spread, countries around the world had implemented measures to curb the spread, including domestic and international lockdown, voluntary & compulsory self-quarantine, contact tracing, temporary closures of some high-risk businesses and schools, and social distancing. These measures have massively impacted the economy. SMEs with small working capital have experienced liquidity shortage due to temporary closure, whereas workers are furloughed or laid off. In term of change in society, people become more aware of personal hygiene.
The Thai government has rolled out a number of relief measures such as 5,000-THB-per-month cash relief, credit line provision, fee reductions for electric & water utilities and rents, tax-filing deadline extension and a 1.9 trillion-THB economic stimulus package. Thailand is now in the reopening phase which involves the relaxing of restriction and gradually allows some businesses to open. This will be followed by the recovery phase which is the revive of the economy and society, and lastly the restructure phase which is the period of introducing systems reform and measures to accommodate social new normal.
Through the review of data and brainstorming exercises with experts, NXPO has devised higher education, science, research and innovation measures for economic and social rehabilitation and reform as follows:
Job creation in the communities through MHESI's Youth Volunteer Program and Cooperative Commune Coaching Platform. Projects such as building water reservoirs for agriculture and employing innovation to create value chains for community economy such as organic farming, food, eco-tourism, local products and creative economy will be introduced.
Reskilling and upskilling platform for COVID-19 affected workforce and newly graduates in preparation for new jobs in the areas of water management, agricultural productivity improvement, digital marketing, traditional medicine and healthcare services.
Support program for SMEs to develop innovations related to economic recovery – such as a screening, tracing, tracking, surveillance system (STTS) – through grants and technology assistance and transfer from academic and research institutes as well as large companies.
Results of this study will be used to revise the higher education, science, research and innovation policy and strategy in order to accommodate changes caused by COVID-19.