After a series of consultation with leading experts in Thailand, NXPO has developed a COVID-19 recovery package consisting of 4 programs:
Reskilling and upskilling programs for new graduates and workers affected by COVID-19 in order to re-enter the job market. The outbreak has caused businesses to temporary shutter the operations and lay off employees. It was estimated that 7.13 million workers have lost their jobs due to the business closures and are forced to move out of big cities back to their hometowns. New graduates are facing tough job market as demands sink. This crisis also changes business landscape and heightens demands for certain job skills such as digital technology. Reskilling and upskilling programs are therefore proposed, with the government subsidizing the costs of training and re-hiring, to equip new graduates and unemployed workers with new skill sets meeting the current job market demands and assist them to re-enter the job market. 
Restructuring the economy by developing growth poles for local economy. As the outbreak has caused massive exodus of workers from big cities to upcountry, this program proposes to stimulate local economy to create more jobs in upcountry through the development of cooperatives and community enterprises with the support of the public and private sectors. 
Rehabilitating and shifting SMEs to IDEs. This program involves the establishment of Innovation Fund for supporting SMEs to develop innovations with the technical assistance of academic and research institutes. Innovation Fund is to be set up with the government's budget and tax-deductible donations from enterprises. 
Transforming the K-12 education system. This program encompasses the development of effective online education, hybrid learning method, digital enhancement program, online learning media, as well as the establishment of measures to be applied when schools reopen.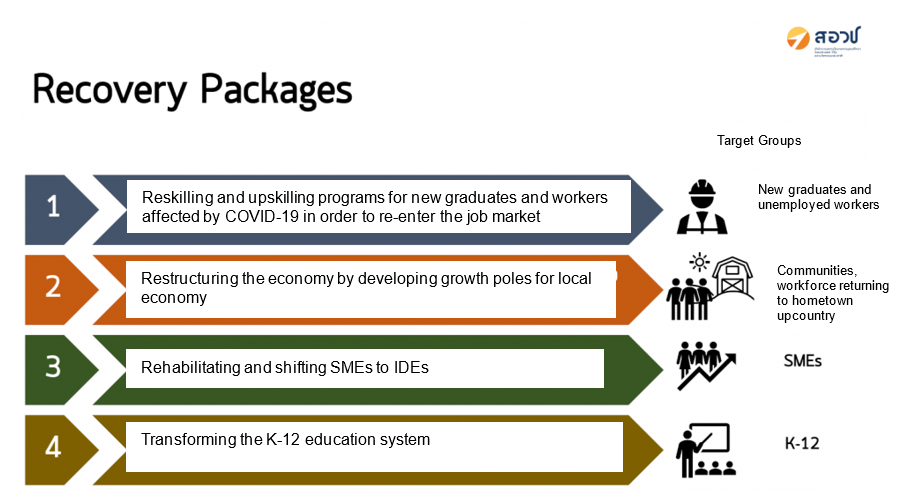 This proposal was presented to experts at the third meeting held recently. The panel provided the following comments and suggestions.
The management of Innovation Fund should be agile and allow the private sector to be the key driver with the support and facilitation of the government. 
A working group should be set up to formulate a roadmap of reskilling/upskilling programs – identifying skills currently in high demands, training duration, channels to reach out to target groups. 
The government and local authorities will be the key player to jump start local economy by initiating ideas to the locals and facilitating the formation of cooperatives and community enterprises. 
Suggestions will be incorporated in the final proposal to be submitted to the government via Ministry of Higher Education, Science, Research and Innovation (MHESI).