On 6 September 2022, NXPO and the Federation of Thai Industries (FTI) held a discussion on the effort to drive public policy to drive an innovation-based economy. The meeting took place at FTI office and on a virtual platform.
NXPO President Dr. Kitipong Promwong presented several initiatives that have been launched to foster the new economy, including the development of innovation-driven enterprises (IDEs), E-Commercial & Innovation Park (ECIP), Thailand Plus Package and circular economy.
The IDEs policy aims to develop one thousand THB-1 billion-revenue IDEs within 5 years. The Ministry of Higher Education, Science, Research and Innovation (MHESI) has set up infrastructure, human resource development programs and networking platforms to facilitate the IDEs development. The ministry is currently working on designing mechanisms to support the transformation of SMEs to THB-1-billion-revenue IDEs in term of access to finance and new markets. Among proposed mechanisms are mentorship and cooperative education programs.
E-Commercial & Innovation Park (ECIP) is the concept of having local science parks and pilot plants serve the local economy development in online & offline marketing and product development for domestic and international markets. At present, there are 21 science parks and pilot plants – 17 of which are dedicated to food and agriculture, 2 to energy and biomaterials and 2 to health and medicine – located in 15 provinces.
Thailand Plus Package is a fiscal measure that encourages companies to provide training and apprenticeship programs to their employees and promote STEM employment. The measure includes 250% tax deduction for expenses spent on certified training courses, and 150% tax deduction for expenses spent on hiring employees with advanced STEM knowledge. There are over 400 courses certified by MHESI and approximately 14,000 employees from 450 companies have obtained the training. In addition, there are several work-integrated learning programs that support manpower development for industry such as Higher Education for Industry (Hi-FI), Total Innovation Management Enterprise (TIME) and Talent Mobility.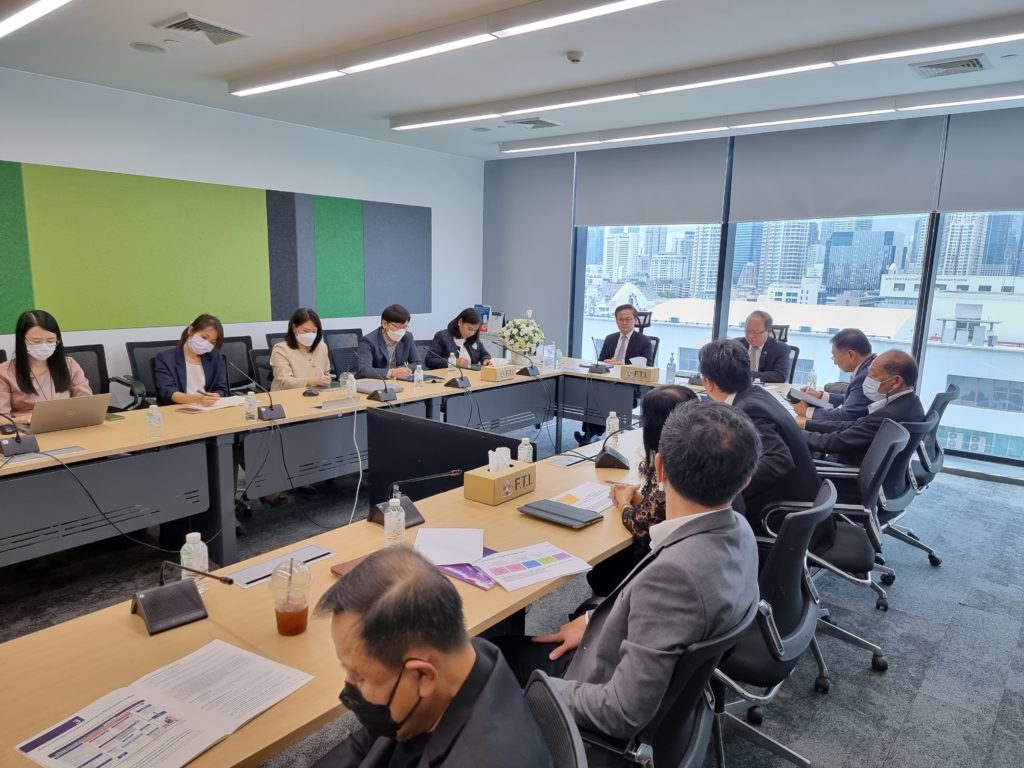 To drive the circular economy (CE) transformation, a circular design course has been introduced for enterprises. In the areas of carbon neutrality and net zero emissions, NXPO is a member of the Thai Renewable Energy (RE100) Association and works closely with the United Nations Framework Convention on Climate Change (UNFCCC). NXPO also collaborates with FTI on Carbon Verification Standard (CVS) and the development of carbon verifiers and certifying bodies.
FTI representatives expressed their willingness and commitment to support and collaborate with NXPO on the above-mentioned policies and initiatives, particularly on IDEs and ECIP whereas FTI local chapters can assist with the expansion to other provinces. FTI also identified smart agriculture industry as a quick win for Thailand.