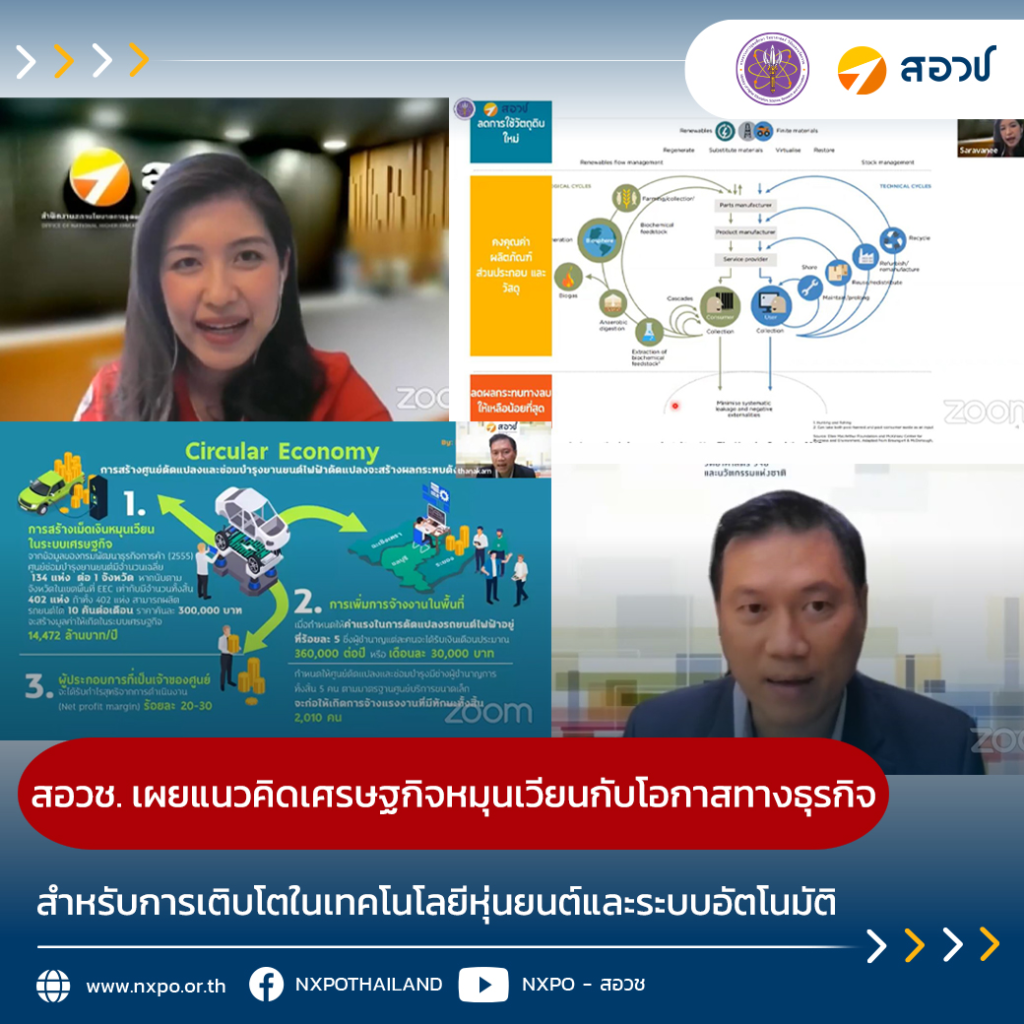 On 25 July 2022, NXPO senior policy specialists gave a talk on business opportunity in the circular economy to students participating in the 14th Thailand Robot Design Camp (RDC 2022). 
Dr. Saravanee Singtong gave an overview on the circular economy (CE). CE is one of the three pillars of the Bio-Circular-Green Economy (BCG) national agenda. CE policy aims to transition the country from the linear economy, where raw materials are used to create products as well as waste, to the circular one where the value of raw materials are maximized through reusing and recycling with no waste generated.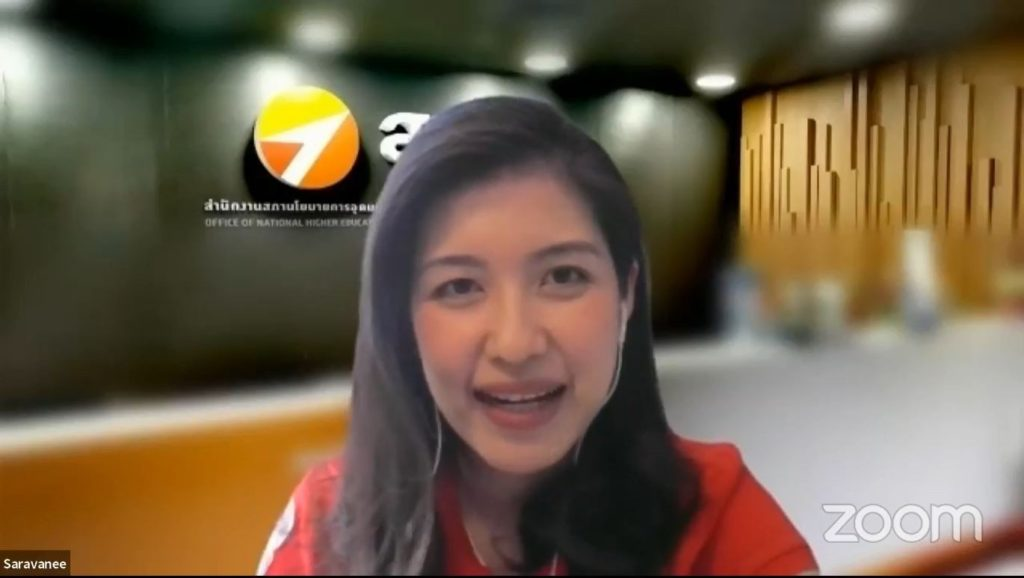 According to the butterfly model conceptualized by Ellen MacArthur Foundation, the principles of CE are reduction of new material use and continuous flow of materials through the biological cycle and the technical cycle. The biological cycle shows how organic matters are fully utilized in their raw forms or wastes to produce products and energy; whereas the technical cycle applies processes such as reuse, repair and recycling to keep products and materials in circulation.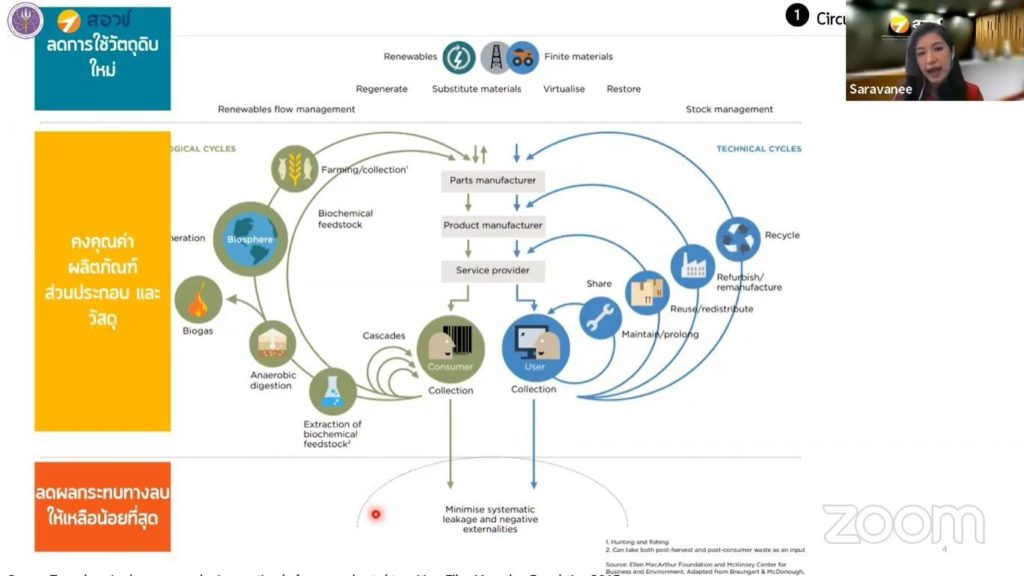 Dr. Saravanee then walked the audience through the CE evolution from 1713 when sustainability was initiated and 1966 when the idea of closed economy was proposed, to 1989 when the circular economy was introduced and 2015 when the European Commission announced the CE Action Plan setting new rules for international trade such as the ban of the use of unsustainable raw materials and production processes and the promotion of sustainable goods and services.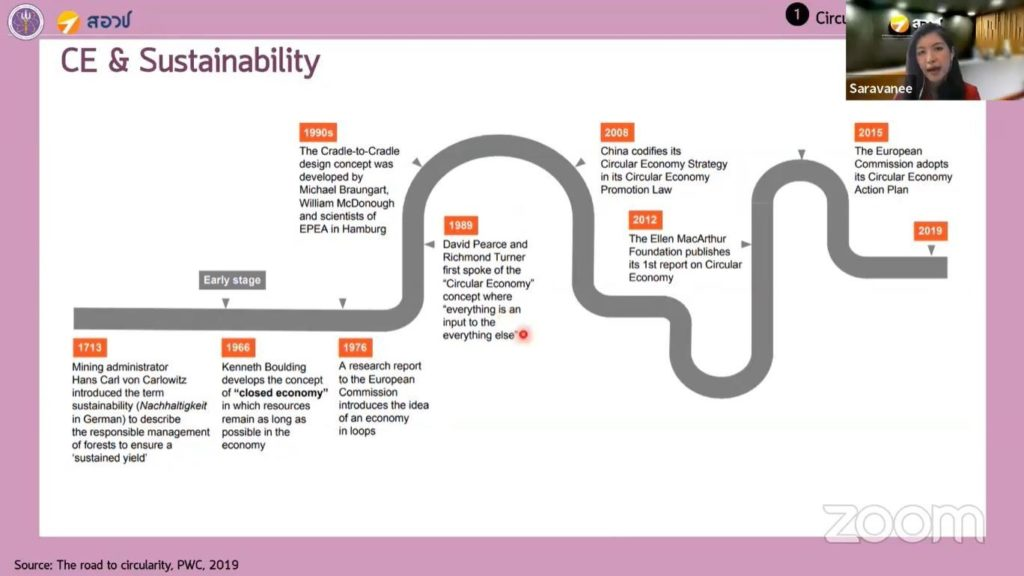 CE ecosystem in Thailand comprises four components: 1) policy – introducing initiatives to set national targets to be achieved, 2) infrastructure – developing capacity, quality system, regulatory framework, financial incentives, investment tools and international trade promotion, 3) industry – designing new business models and manufacturing processes to enable circularity, and 4) people – cultivating mindset and raising awareness of sustainable consumption. Examples of CE businesses were given which include repair services, second-hand traders, material recycling and access models such as laundromats. In the European Union, the 6-action framework – regenerate, share, optimize, loop, virtualize and exchange – has been adopted to enable its CE transition.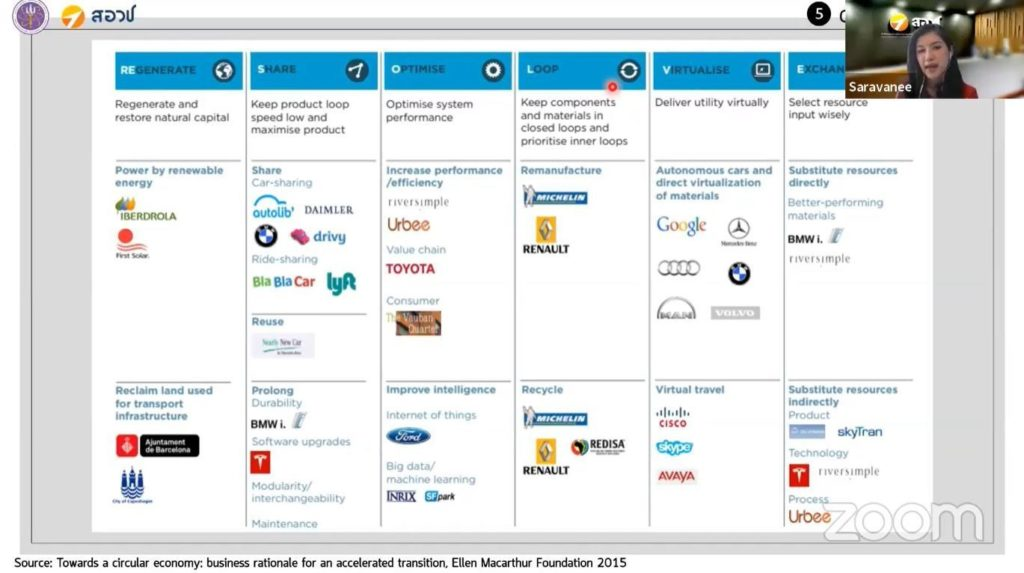 Dr. Thanakarn Wongdeethai presented the trend in future transport. The European Union will end the sale fossil-fuel car by 2035. At the 2021 United Nations Climate Change Conference (COP26), Thailand announced its plan to achieve carbon neutrality by 2050 and net zero emissions by 2065. Meanwhile, the National Electric Vehicle Policy Committee announced that 30% of new cars manufactured in Thailand in 2030 will be electric vehicles (EV), and this number will be raised to 100% by 2035. Although all these national and international policies present a great threat to Thai car makers and car part manufacturers, they offer new business opportunity to Thai auto industry if they can adapt and embrace new technologies that provide cleaner transport. This new trend will in fact drive the growth in the following sectors: battery, EV conversion, EV new design and EV open platform, thus benefitting EV and EV-related startups.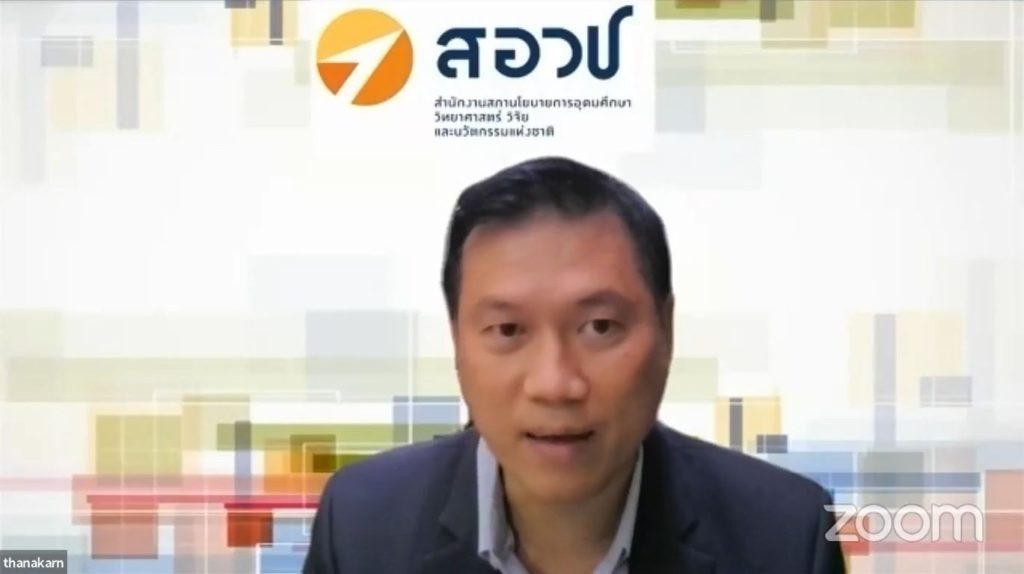 At present, the Program Management Unit for Competitiveness (PMUC) has a program dedicated to future mobility, robotics and automation. The program provides research fund and promote the translation to businesses, with projects to develop, for instance, light rail transit vehicles, EV conversion and electric trucks. The National Science and Technology Development Agency (NSTDA) and its partners recently unveiled four electric bus prototypes developed under the city transit E-buses project. In addition, the Ministry of Higher Education, Science, Research and Innovation is planning to produce and distribute an EV conversion handbook to auto repair shops nationwide.