The 2nd Circular Economy Technology Foresight Workshop took place virtually on 26 July 2022 with 60 participants from APEC economies including Thailand, Hong Kong, Indonesia, Vietnam, Cambodia, the Philippines, Japan, Brunei Darussalam, Russia and the US. The event was organized by APEC Center for Technology Foresight which is hosted by NXPO with objectives to identify key issues, solutions, success factors and mechanisms to drive the circular economy (CE) which will support the formulation of a technology roadmap for the CE development in the Asia-Pacific region.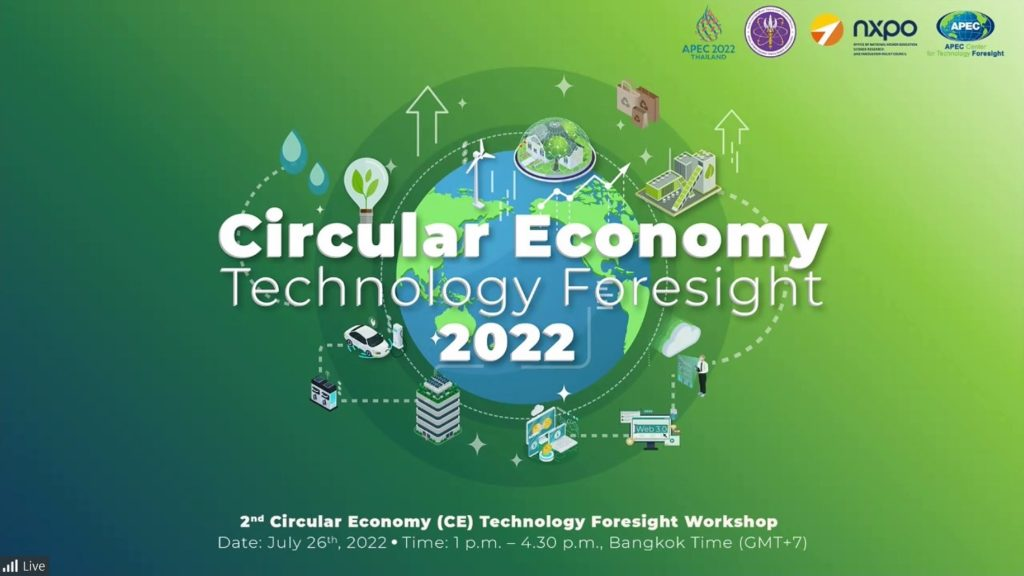 In his opening statement, NXPO President Dr. Kitipong Promwong remarked that Thailand has declared the Bio-Circular-Green Economy (BCG) a national agenda to drive sustainable development. The BCG model therefore forms the foundation for this workshop which addresses current issues on global economy, environmental degradation and climate change and their interconnections, as well as the STI collaboration to facilitate trade and investment and move closer to the Sustainable Development Goals (SDGs). He also emphasized that STI holds key to solve global problems and that this workshop will lead to positive outcomes and opportunities for better future.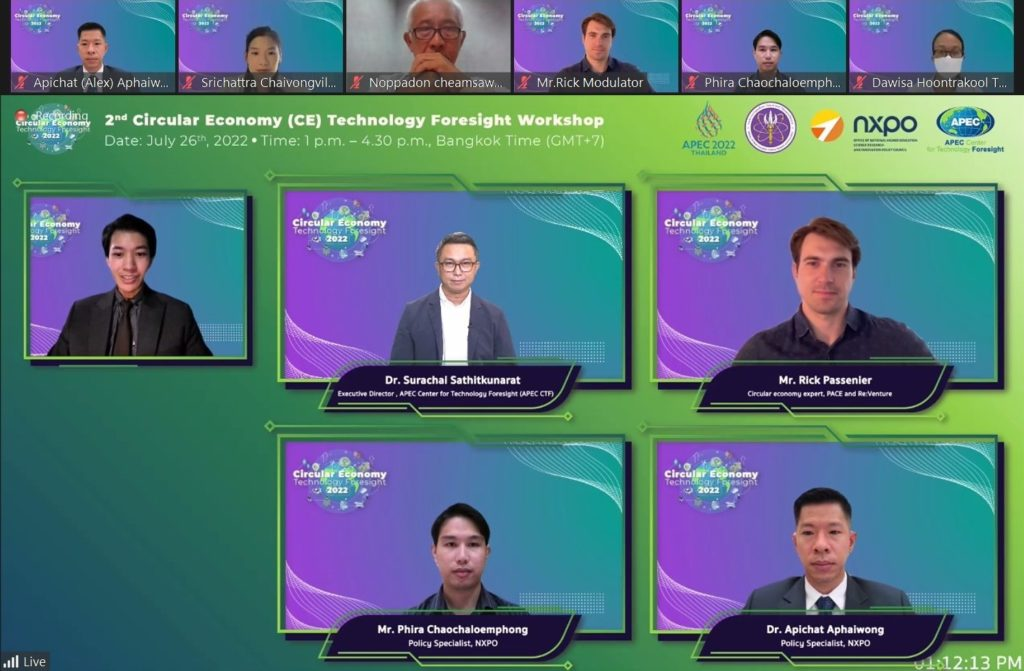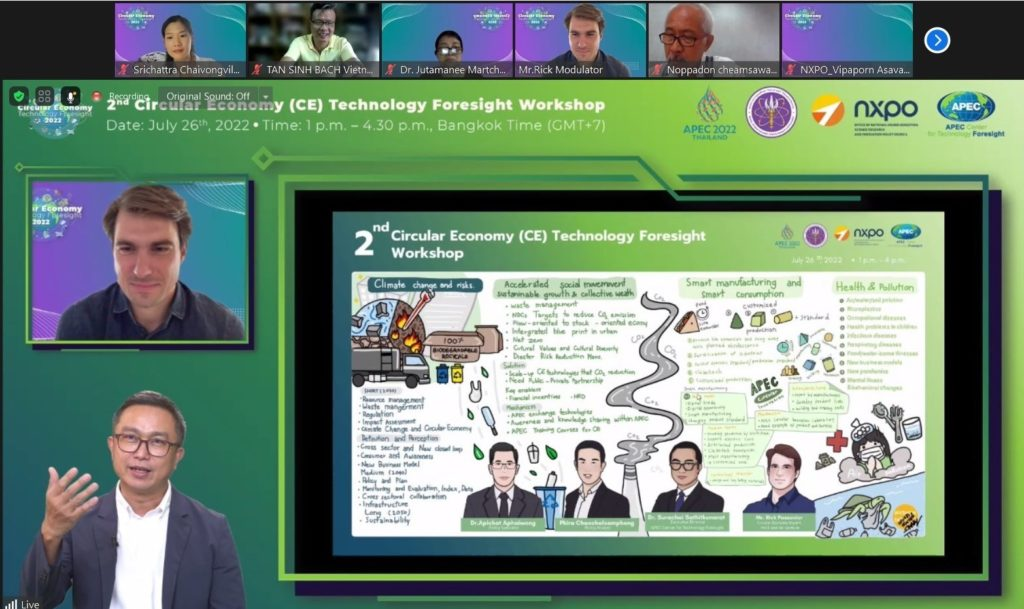 Participants were split into 8 discussion groups for each of the following areas: 1) health & pollution, 2) accelerated social movement, sustainable growth & collective wealth, 3) climate change & risks, 4) smart manufacturing & smart consumption, 5) food safety & security, 6) resource scarcity & security, 7) globalization / localization, and 8) emerging, transformative technology platforms.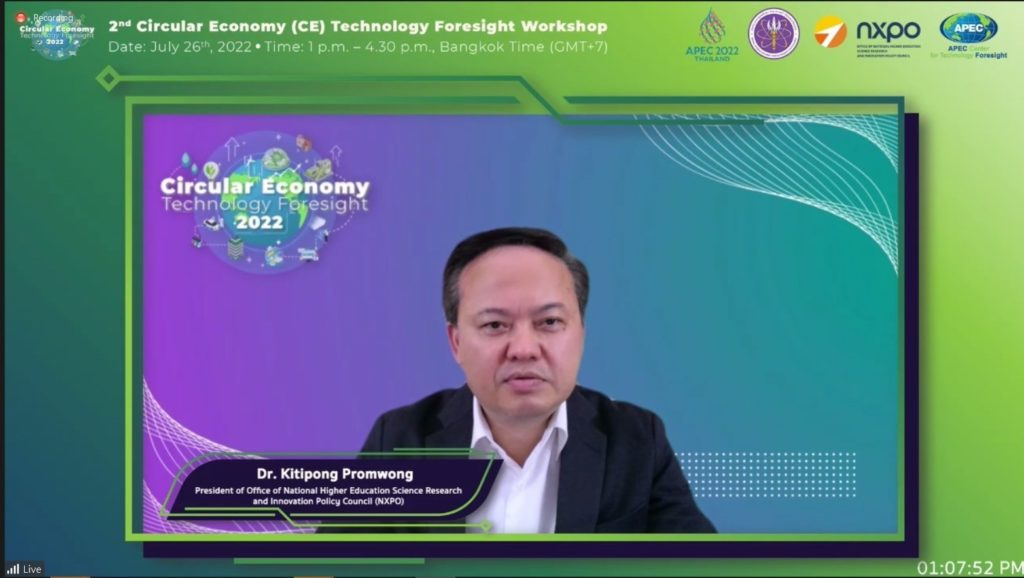 Each discussion group delved into key issues in each area from describing the problems and identifying challenges and opportunities, to suggesting short-, medium- and long-term solutions in term of technology exploitation, designing supportive policy and legal framework and creating mechanisms for APEC collaboration. 
The brainstorming session yielded several interesting recommendations. The health and pollution group considered air/water/soil pollutions as major issues and suggested an establishment of key infrastructure such as recycling centers at the community and regional level, biorefinery, biofoundry and big data centers. The climate change and risks group viewed CE innovation ecosystem as a key issue and recommended a policy on renewable energy appliances, a roadmap for fast-moving consumer goods and a strategic plan for CE transformation. The groups on food safety & security and resource scarcity & security identified recycling as a solution to resource scarcity and suggested plant-based meat and alternative protein to solve food security problem with synthetic biology as a potential research topic for APEC collaboration.
At the end of the workshop, Dr. Surachai Sathitkunarat, NXPO Assistant to the President and Executive Director of APEC Center for Technology Foresight informed the meeting that results of the two workshops will be incorporated into the Bangkok Statement to be proposed to APEC STI Ministerial Meeting and APEC Summit scheduled to take place in October and 18-19 November, respectively.