NXPO Vice President Dr. Kanchana Wanichkorn recently gave a talk at the 3rd ASEAN Innovation Roadmap Forum: Key Technologies and Innovations in Responding Global Challenges towards Sustainable ASEAN. Her presentation, which took place virtually on 27 June 2022, was titled Disruptive Innovation: Frontier Technology-based Solutions for ASEAN Grand Challenges towards Sustainable and Resilient ASEAN.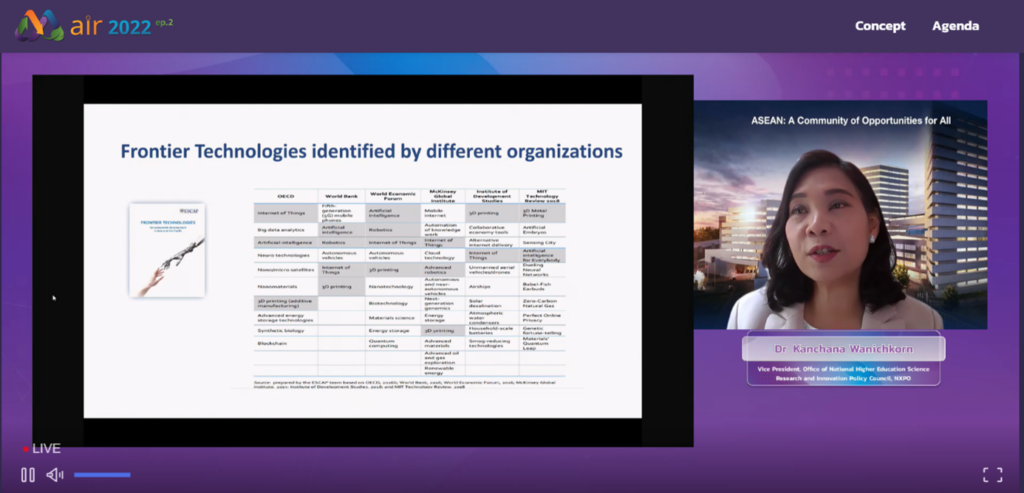 In her talk, Dr. Kanchana listed the economic/ social issues and goals commonly shared among ASEAN member countries, which are the post-pandemic economic recovery, digital transformation, aging society, targeted poverty eradication, carbon neutrality and net zero emissions. She then proceeded to discuss the attention developed countries such as the US and the UK have paid to frontier technologies. Thailand has also created a frontier research framework covering the following three areas: 1. physical sciences & engineering, 2. biological sciences & life sciences, and 3. social sciences, humanities & arts. Implementation has been in progress in the fields of quantum technology, earth and space system, high energy physics, and biological resource platform.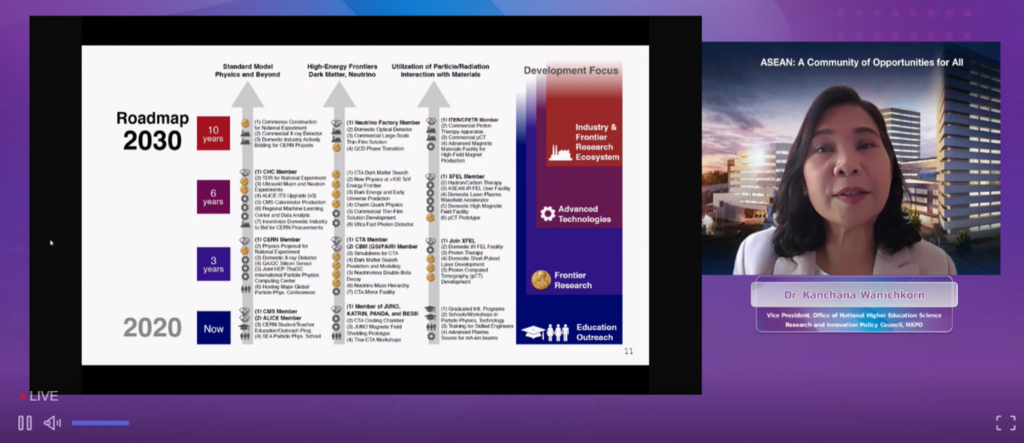 In her conclusion, Dr. Kanchana summarized that the success of frontier technology development hinges on three factors: the balance between short-term investment for innovation and long-term investment to strengthen the future foundation, the balance between high-risk, high-return investment and safe bet return investment, and the public-private partnership.
The 3rd ASEAN Innovation Roadmap Forum was hosted by Thailand's Ministry of Higher Education, Science, Research and Innovation (MHESI) on 27-29 June 2022. The hybrid event brought together representatives of ASEAN member countries and ASEAN dialogue partners to share views on how to implement ASEAN Innovation Roadmap to shape the future of ASEAN through innovation, discuss future cooperation among ASEAN and between ASEAN and dialogue partners, and promote collaboration under the Bio-Circular-Green Economy (BCG) model.