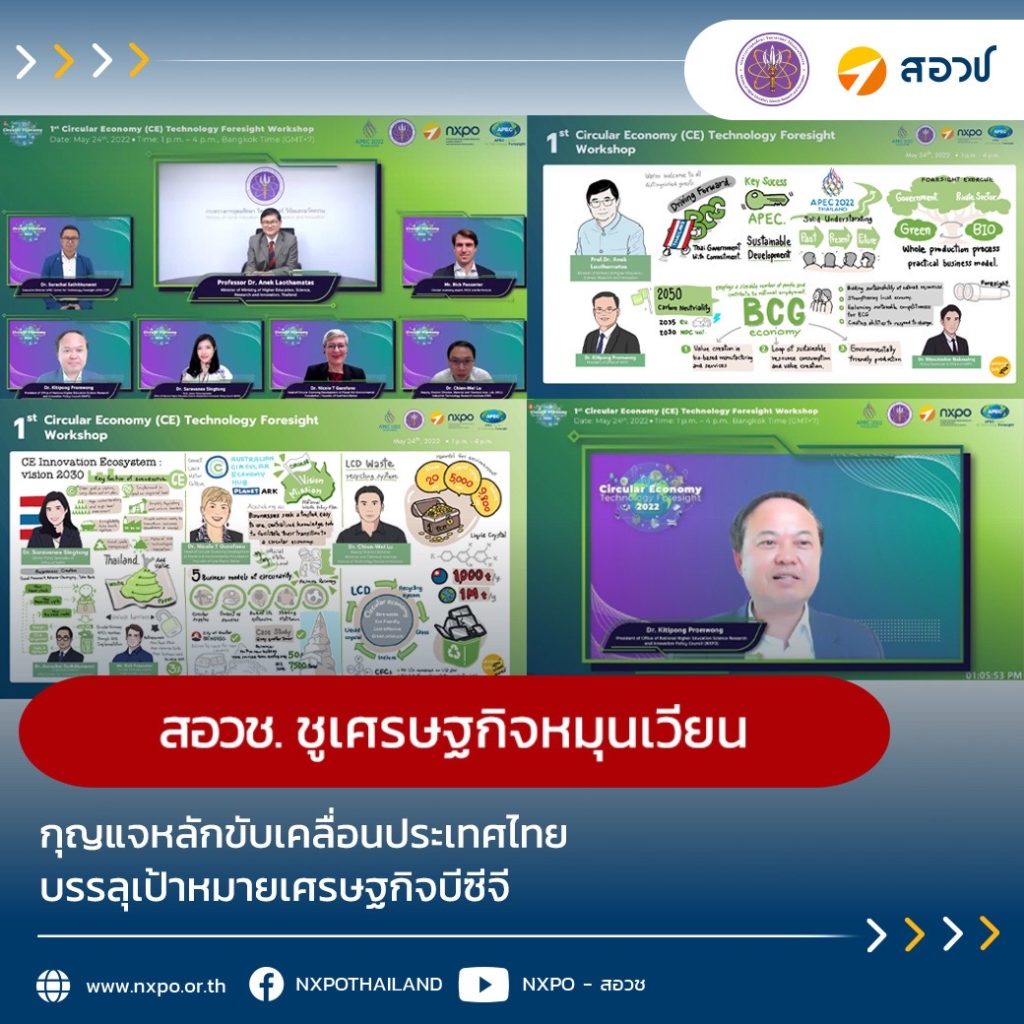 APEC Center for Technology Foresight which is hosted by NXPO organized the 1st Circular Economy Technology Foresight Workshop. Held on 24 May 2022, the virtual event aims to formulate a technology roadmap for the development of circular economy (CE) in the Asia-Pacific region, and recommendations on collaborative programs to drive CE.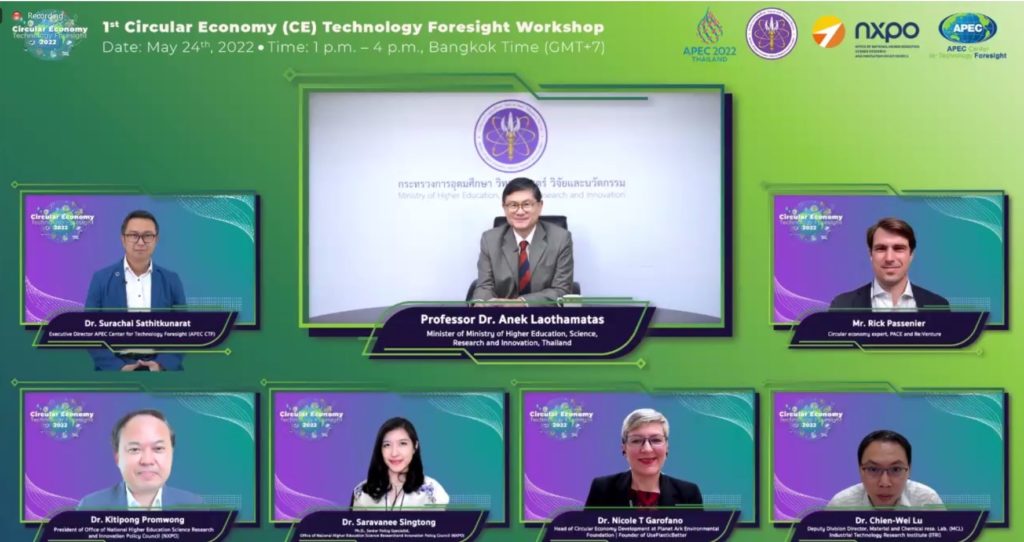 In the opening session, Prof. Anek Laothamatas, Minister of Higher Education, Science, Research and Innovation (MHESI), remarked that Thailand had declared the Bio-Circular-Green Economy (BCG) its national agenda to bring sustainability to the country. MHESI as the main driver of BCG developed the BCG Action Plan 2021-2027 providing a framework for the implementation. In the BCG model, CE plays a key role in enabling both the bioeconomy and green economy. CE is not limited to recycling, but must start from the product design, manufacturing to consumption. Science, technology and innovation are therefore essential tools to enable circularity of resources.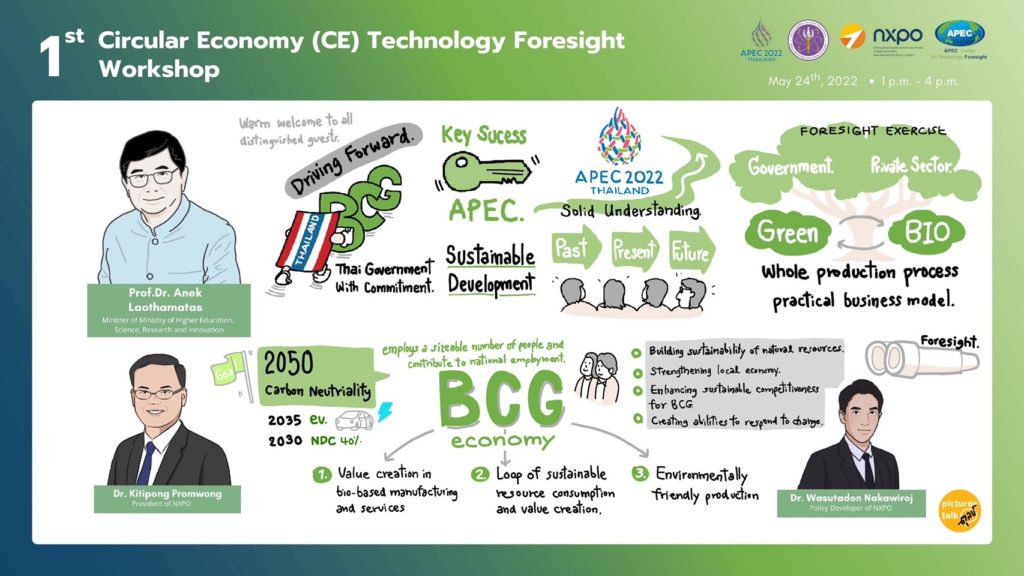 In his remarks, NXPO President Dr. Kitipong Promwong stated that Thailand aims to achieve carbon neutrality by 2050 and net zero greenhouse gas emissions by 2065. The BCG model is the key driver to enable Thailand to meet these targets. The BCG action plan is based on four strategies: 1) promote sustainability of biological resources, 2) strengthen communities and grassroots economy, 3) enhance sustainable competitiveness of industries and 4) build resilience to global changes.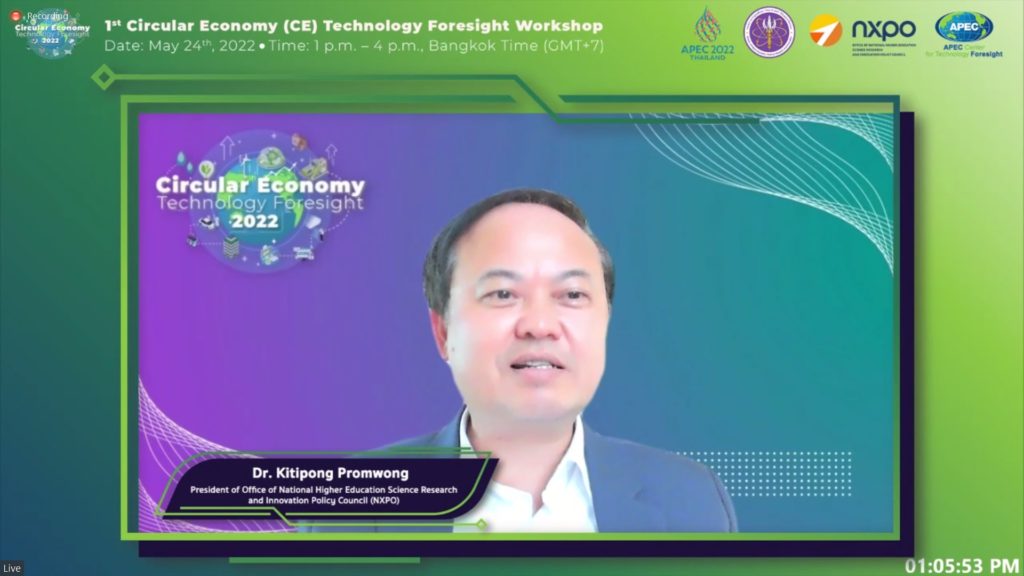 NXPO has introduced CE Vision 2030, aiming to reduce resource use by 1/3, cut down greenhouse gas emission by 30 metric tons of carbon dioxide equivalent, and contribute 3% of the GDP. CE needs to be applied to all industries and sectors, including food, transportation, recycling, construction and urban development. In addition, CE has potential to open new business opportunities, and thus a new platform to facilitate innovation creation, as well as support policies and measures such as investment incentive need to be introduced. These ideas will be presented in a report on Circular Economy Innovation Ecosystem: Vision 2030 that NXPO is preparing.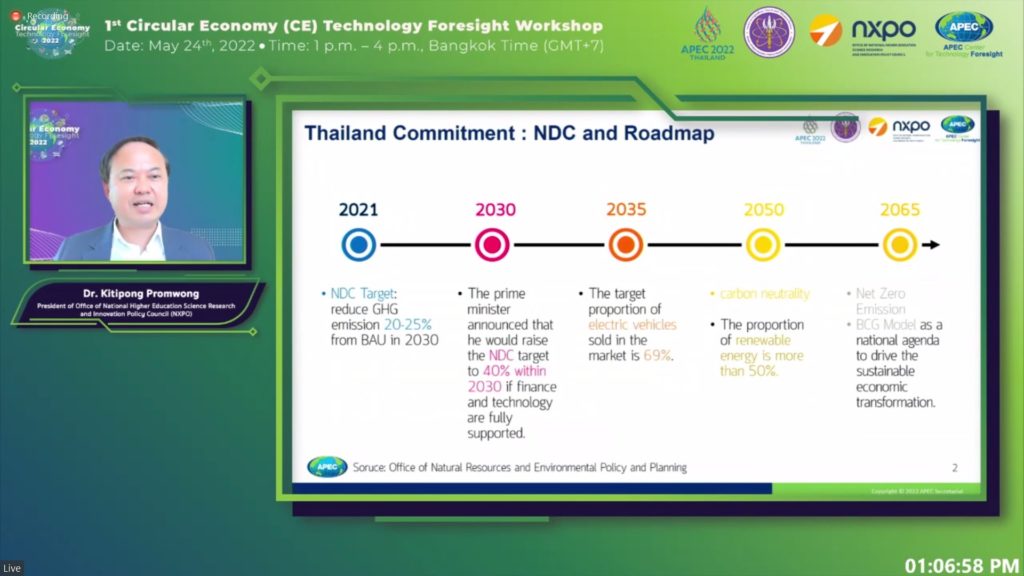 This 1st workshop focused on global trends & impacts and challenges and solutions. Case studies of CE in Australia and Taiwan were also presented. The workshop was attended by 60 participants, representing enterprises, academia and government agencies from 13 economies in Asia, Europe and Australia. The 2nd workshop is scheduled at the end of June. Results of the workshops will be presented at the APEC STI Ministerial Meeting and the APEC Summit schedules in August and November, respectively.