Future Talk by NXPO recently discussed the implementation of area-based development to eradicate poverty in Thailand. Guest speakers include Dr. Kitti Satjawattana, Director of Program Management Unit for Area-Based Development (PMU-A); Mr. Manattapong Senghuad, an entrepreneur from Varni Handicraft Center in Phatthalung province; and Ms. Natthasuda Khanarot, a villager from Amnat Charoen province. The forum was moderated by NXPO President Dr. Kitipong Promwong.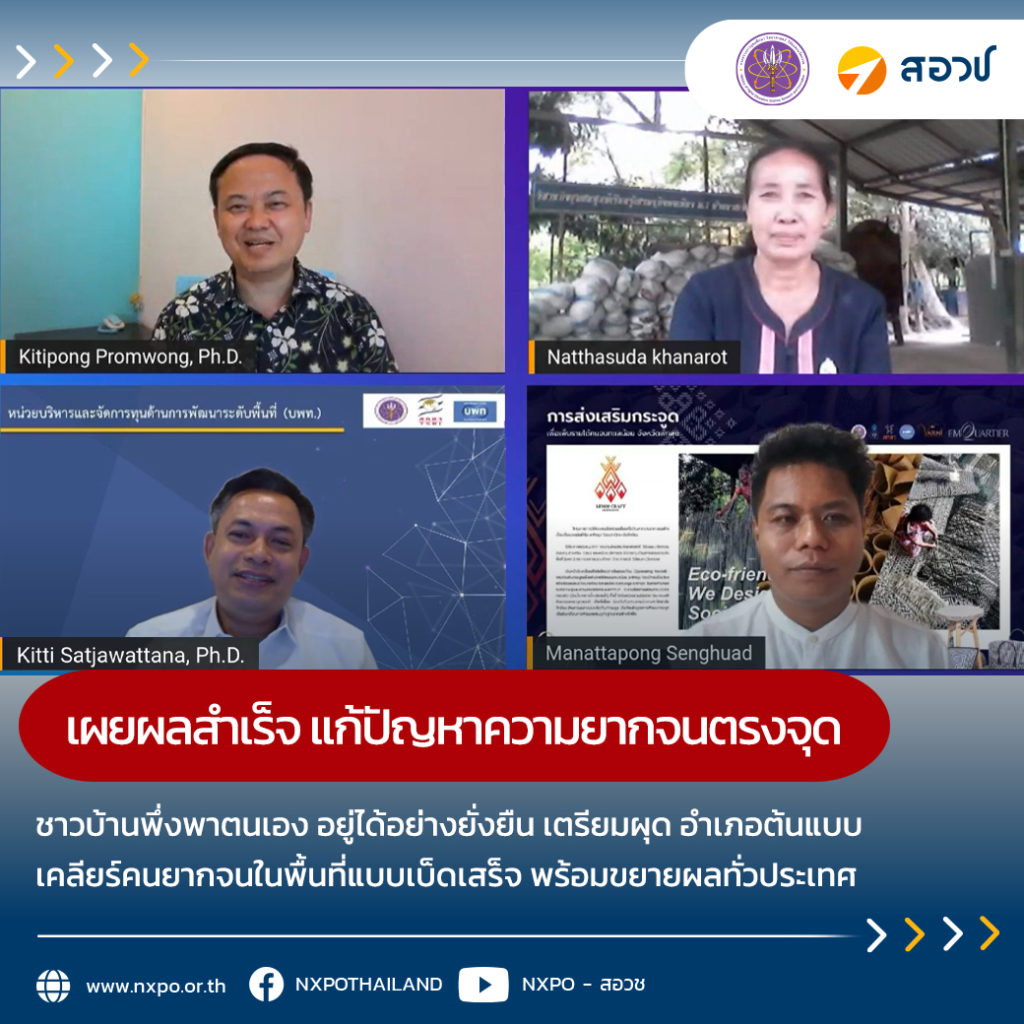 Dr. Kitipong remarked that the area-based development is a vital mechanism to drive the economic growth. As Thailand aims to escape from the middle-income trap, the country needs to address its wide urban–rural income gap. The key to area-based development is to have a reliable data and clear understanding of the area, which has become the strategy employed by PMU-A. There are some indications that the work performed by PMU-A is leading to sustainable poverty eradication.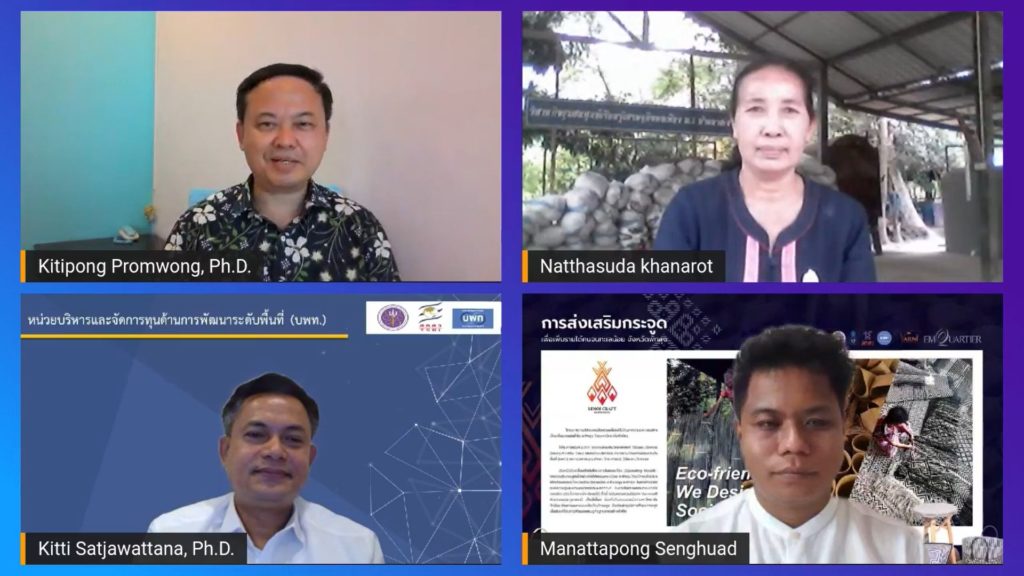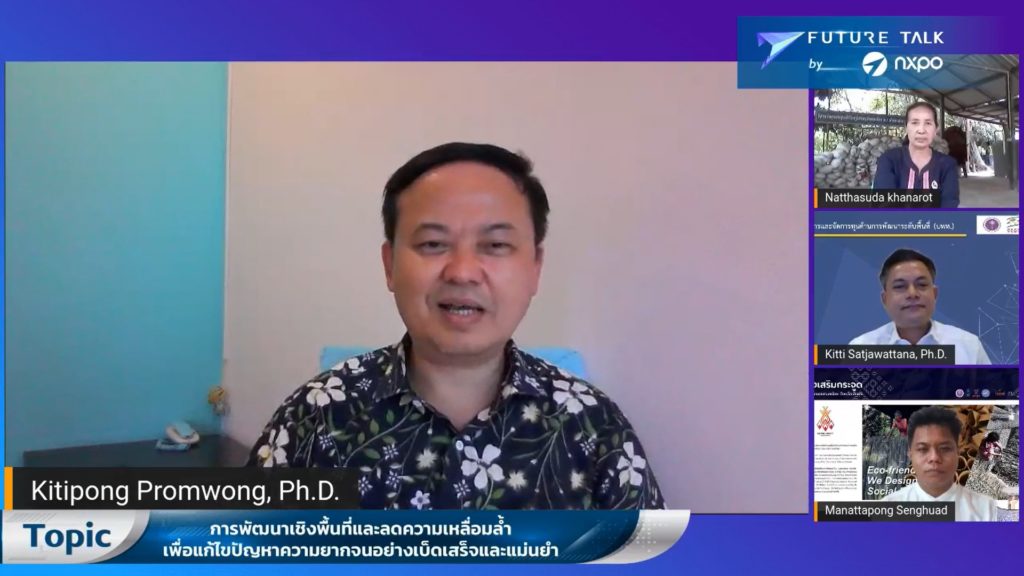 Dr. Kitti explained that PMU-A implements its work in three aspects: 1) poverty eradication, 2) grassroots economy, and 3) urban development. Poverty is a complex and challenging issue. Thailand's Human Achievement Index (HAI) shows a wide gap between the rich and the poor. A national program has been established to implement actions on poverty eradication and life cycle development (PELCD). A PELCD office was set up in each province to work on poverty eradication using data from the Thai People Map and Analysis Platform (TPMAP). PMU-A has operated Personalized Poverty Alleviation (PPP) program since 2020. The program takes an approach of understanding the area by asking three questions: 1) where are the poor?, 2) why are they poor and what are their capitals?, and 3) how can they be empowered to free themselves from poverty?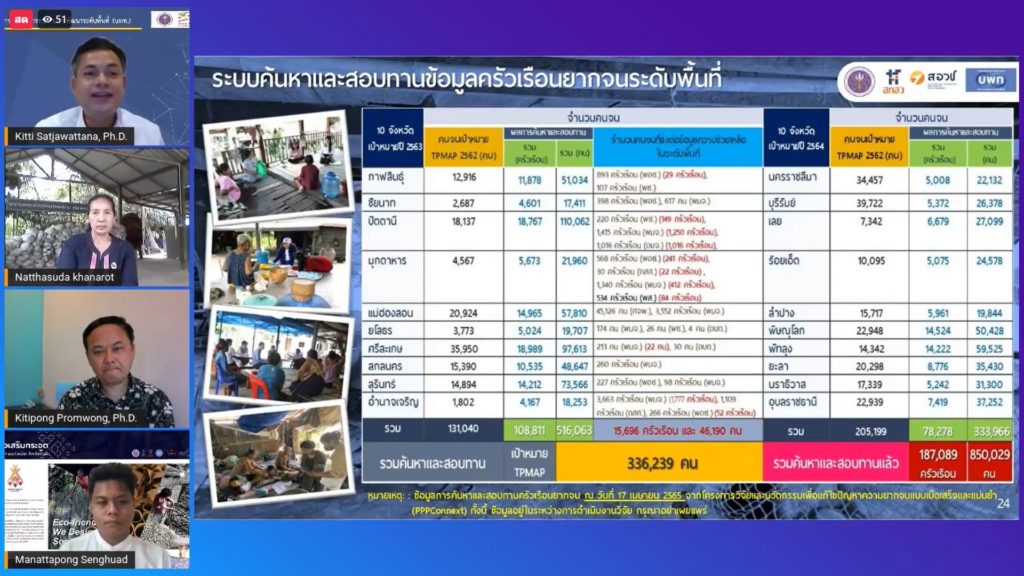 PMU-A focused its work in 20 provinces with the lowest HAI and household income from 2020 to 2021 and collaborated with local universities to embark on capacity building and community development. PMU-A also worked with provincial PELCD offices and universities to 1) validate and update TPMAP data, 2) perform root cause analysis and identify capitals of poor households, 3) connect poor people to welfare and aid programs run by the public and private organizations, and 4) direct poor people to enter the community welfare system or community product manufacturing system.
After two years into the implementation, PMU-A together with ten universities and provincial PELCD offices has updated the TPMAP data which now contains 850,029 poor people, a jump from 336,239 people. Assistance has been brought to 15,696 households, and 5,454 households have received aids. The 3-year program is expected to achieve a model district that successfully eliminates poverty and scale up the program nationwide.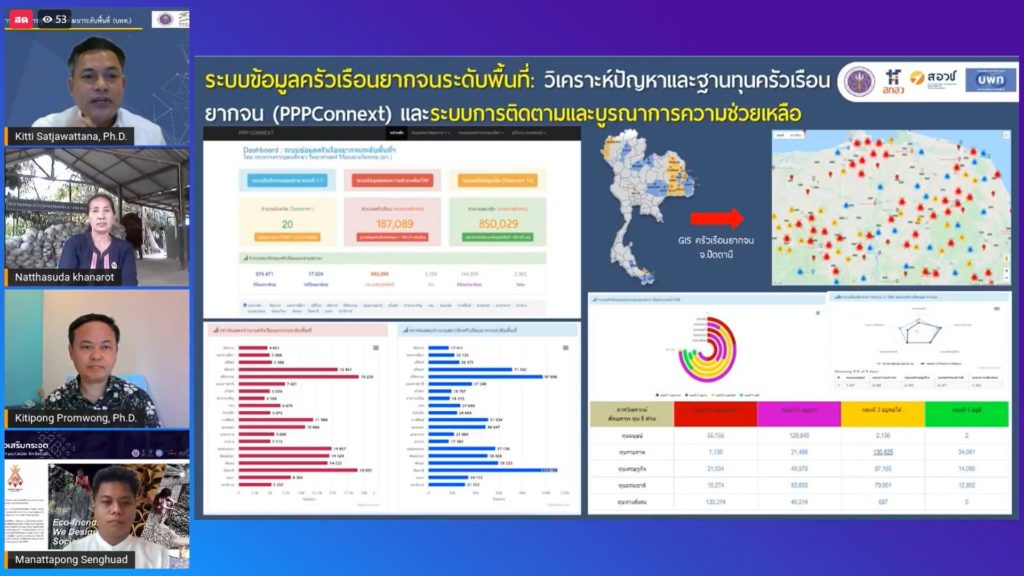 Ms. Natthasuda represented the beneficiary of the poverty eradication program in Amnat Charoen province implemented by Ubon Ratchathani University. With the assistance and training provided by the program, her family is now running an integrated farm, growing crops and raising farm animals. The activity has recently been expanded to mushroom cultivation. The family also adopts self sufficiency economy.
Mr. Manattapong represented a community enterprise producing basketry products that participated in the poverty eradication program run by Thaksin University Phatthalung Campus. The university has improved the business by assisting with the product development, introducing natural dyes to reduce cost and environmental impact and adding local identity to the product design, thus enabling the enterprise to set their products at higher price. In addition, the enterprise is able to increase their sales through an online marketing channel. As the business prospers, villagers' daily income rose from THB 200-300 to THB 500-600.