On 14 March 2022, NXPO President Dr. Kitipong Promwong joined the event announcing the collaboration between the Provincial Electricity Authority (PEA) and the Federation of Thai Industries (FTI) to pilot the development of renewable energy and carbon credit framework.
Dr. Kitipong stated in his remarks that renewable energy is considered a priority issue by all parties as it enables Thailand's goal of net zero emissions by 2065. The National Higher Education, Science, Research and Innovation Policy Council (Policy Council) also set a key policy to employ higher education, science, research and innovation to support the work on renewable energy. NXPO will be able to support this PEA-FTI partnership in the areas of research and innovation, technology transfer, and human resource development. Through its capacity as the national designated entity (NDE) of the Climate Technology Centre and Network (CTCN) under the United Nations Framework Convention on Climate Change (UNFCCC), NXPO can facilitate the transfer of key technologies from overseas to Thailand. NXPO will design six training courses to support manpower development in the areas of carbon credit and carbon verification. Courses to be developed are 1) Design Principle: Passive & Active Design, 2) Energy Efficiency, 3) Renewable Energy, 4) 3R + 1W + 1C, 5) Carbon Credit Certificate and 6) Carbon Credit/RE Platform.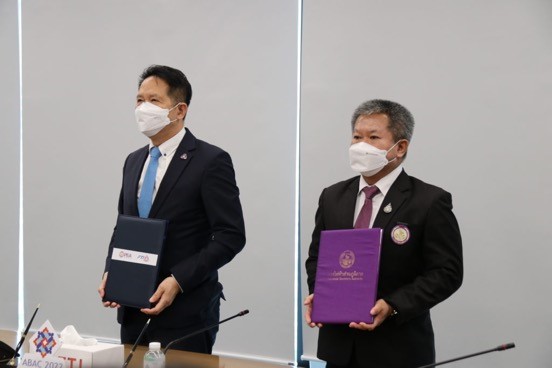 FTI Chairman Mr. Supant Mongkolsuthree indicated that the cheaper cost of renewable energy will increase renewable energy consumption. Renewable energy will continue to create new business opportunities such as carbon credit trading and new types of power purchase agreements. Both the public and private sectors in Thailand must build our capacity to thrive under the new global rules and to achieve the government's goals of 30% renewable energy by 2030, carbon neutrality by 2050, and net zero greenhouse gas emissions by 2065.
PEA Governor Mr. Supachai Ek-un stated that the database, the carbon verification and certification process and the connection with the FTI platform through the Phase II of ERC Sandbox developed from this collaboration will establish a model for national expansion.
Energy Regulatory Commissioner Mr. Buntoon Srethasirote added that the ERC Sandbox Phase II supports the test of innovative energy technology and the development of regulatory framework for the new technologies, aiming to enable both green innovation and green regulation to improve access to clean energy.