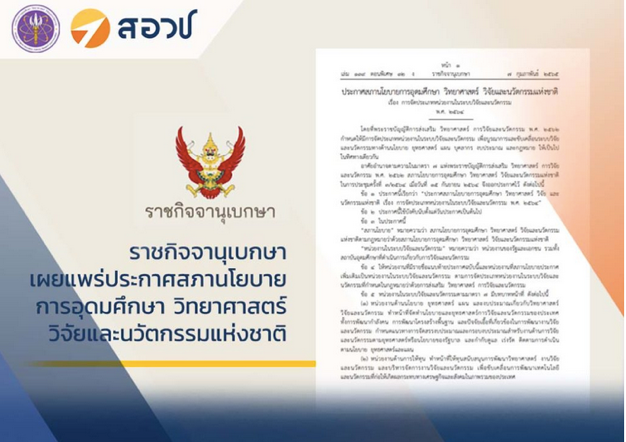 The Notification of the National Higher Education, Science, Research and Innovation Policy Council on the Classification of Organizations in the Research and Innovation System B.E. 2564 was published in the Government Gazette on 7 February 2022.
The notification classifies the roles of research and innovation organizations into 7 categories and provides the list of organizations under each category.
Policy, strategy, plan and budget organizations. Two organizations are placed under this category: NXPO (excluding the Program Management Units) and Thailand Science Research and Innovation (TSRI).
Funding organizations. At present, the category comprises: i) National Research Council of Thailand (NRCT), ii) National Innovation Agency (NIA), iii) Health Systems Research Institute (HSRI), iv) Agricultural Research Development Agency (ARDA), v) Thailand Center of Excellence for Life Sciences (TCELS), vi) National Vaccine Institute (NVI), and vii) three Program Management Units under NXPO (PMU-A, PMU-B and PMU-C).
Organizations performing research and innovation.
MSTQ (Metrology, Standards, Testing, and Quality) organizations.
Organizations supporting and facilitating knowledge management and research and innovation utilization to create social and economic impacts.
Others
Categories 3 to 5 currently contain a total of 75 government agencies, 170 higher education institutes and 8 non-profit foundations and organizations.
The notification can be downloaded from the following link: http://www.ratchakitcha.soc.go.th/DATA/PDF/2565/E/032/T_0001.PDF