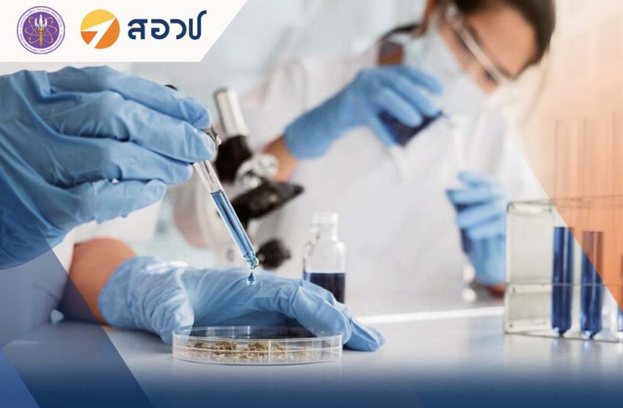 The Annual Report 2021 released by the National Higher Education, Science, Research and Innovation Policy Council (Policy Council) contained the analysis of science, research and innovation (SRI) capability in 15 sectors. This article presents SRI current capability and areas of development in smart farming, food, medical devices, genomics and vaccines & biologics.
Smart Farming 
Agriculture is an important sector, taking up 55.73% of the total land in Thailand. The sector is faced with multiple challenges including climate change, increasing demand for food due to growing global population, and technological disruption. Smart farming has been identified as a solution to overcome these challenges. 
Current Capability. The public and private sectors are actively engaged in both the development and the importation of smart farming technologies. Examples of locally developed technologies include the rice plant disease forecaster in the paddy field and Agri-Map. A study is being conducted in Chainat, Roi Et, Ubon Ratchathani and Amnat Charoen employing satellite remote sensing to improve rice production. Capacity building program is being implemented for oil palm growers in Krabi and Surat Thani to bring the production to meet the RSPO standards for sustainable oil palm production.
Areas of Development. More attention should be paid to the development of agricultural machines and devices, as well as key infrastructure, for crop and livestock production. Higher education institutes and enterprises should play a more prominent role in knowledge and technology transfer to farmers.
Food 
Food processing is essential to Thai economic system as it creates value to agricultural products, provides significant employment and generates additional income to farmers and local communities. Thai food products are exported to more than 200 countries at the value of THB 900 billion annually. 
Current Capability. The development of technology and innovation in Thailand is well responsive to the global trends covering topics such as insect proteins, plant-based food, functional food, ready-to-eat meals and premium fresh products.
Areas of Development. More attention should be given to post-harvest technology, new food processing technology, purification, packaging and cold chain logistics.
Medical Devices 
Medical devices industry represents a high potential sector in Thailand with a 6.5% annual growth between 2021-2022. In 2020, Thailand exported THB 158 billion worth of medical devices against the import value of THB 78 billion and held the largest medical device market in ASEAN. 
Current Capability. Locally developed innovations that have reached the market include dental implants and titanium orthopedic implants. A number of technologies are being developed by Thai academic and research organizations such as medical equipment, diagnostic tests, and system and software for medical services.
Areas of Development. To enhance the competitiveness of this sector, Thailand needs to accelerate the manpower development especially in biomedical engineering, support R&D in advanced and complex medical equipment, and strengthen the quality infrastructure system.
Genomics 
The advancement in genomics and genetic research makes a great contribution to health research, providing insights into genetic diseases and leading to the development of disease prediction, diagnosis and personalized medicine. 
Current Capability. Genomics Thailand was launched in 2020 as a 5-year strategic program to study human genome of Thai population to support genomic medicine research and enhance the competitiveness of Thailand as a medical hub.
Areas of Development. Thailand needs to build critical mass of personnel and infrastructure in the areas of medical genetics, molecular biology, molecular pathology, bioinformatics and genetic epidemiology.
Vaccines & Biologics 
Thailand's market for drug and medical supplies is the second largest in ASEAN and worth more than THB 200 billion. The country has built up capability in vaccine production through local R&D and technology transfer and collaboration with foreign partners. Recent success includes the production of COVID-19 vaccine. 
Current Capability. Active R&D in Thailand covers the area of vaccines, biopharmaceuticals and biosimilars development as well as production technology supported by fully equipped and integrated facilities. Several types of COVID-19 vaccines are being developed locally in universities, research institutes as well as private companies, utilizing different vaccine platforms.
Areas of Development. Thailand needs to increase the potential of its human resources and strengthen the national quality infrastructure system. Focus should be placed on advancing production from laboratory to GMP-PIC/S industrial scale and translation research which can now be serviced by CLINIXIR, a newly established Clinical Research Organization (CRO) in Thailand.